Lenovo displays new 10.1-inch tablet at the Mobile World Congress
Photo: Company [Feb 27, 2013]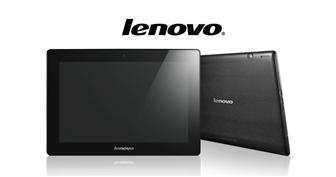 The Lenovo S6000 is powered by the MTK 8389/8125 1.2GHz quad-core processor, has a 10.1-inch IPS 1280 by 800 display with a wide 178-degree viewing angle, and is also equipped with a micro HDMI port and digital microphone.
The S6000 also offers a number of additions to optimize its performance as a connectivity tool for social networkers including optional HSPA+ and a battery that allows for more than eight hours of continuous Wi-Fi web browsing. The device is 8.6mm thick and weighs 560g.
2H 2012 global TFT panel market forecast

Digitimes Research predicts there will be a total of 389 million large-sized TFT LCD panels shipped in 2H12, with 195 million in the third quarter and 194 million in the fourth quarter - with the total representing a 7.6% increase over the first half of this year.

Trends and shipment forecast for 2H 2012 smartphone market

Smartphone shipments in 2010 and 2011 both enjoyed growth of more than 60%. Growth will decelerate in 2012 due to the high base, as well as a slowdown in consumer spending in Western Europe.

Trends in Asia LED chip manufacturing industry

Asia is playing an ever more important role in upstream LED chip manufacturing. The region accounted for 80% of MOCVD demand in 2011 and will account for 90% in 2012, largely because Taiwan, Japan, South Korea and China are the major global centers for LED chip production.