Albatron on July 21 launched its AGP7600GS graphics card, which boasts an Nvidia 7600GS core, for AGP- (accelerated graphics port-) capable motherboards. The new AGP core from Nvidia employs 90-nanometer (90nm) process technology that consumes less power and heat and allows more room for faster core frequencies, Albatron said. Compared to its predecessor, the 6600GT, Albatron's AGP7600GS boasts a 25% performance increase despite its lower core and memory frequencies, the card manufacturer claims.
On July 20, Nvidia launched an AGP version of its 7600 GS graphics processing unit (GPU), which features the same specifications as the PCI Express versions. Prices of 7600 GS AGP cards are between US$160-$200, depending on card manufacturers, technology news website TG Daily cited Nvidia as reporting.
According to Albatron, the AGP7600GS, based on an AGP 8x interface, has a frequency of 400MHz and contains 12 pipelines. It supports 256MB of 700MHz GDDR2 memory with a 128-bit memory bus. The AGP7600GS boasts an improved fan/heat sink that is quieter than previous generations, said the company. In addition, the new AGP card fully supports Microsoft DirectX 9.0c, OpenGL 2.0, Shader Model 3.0, Intellisample 4.0 and is Windows Vista ready, as well as pushing the limits of wide-screen and high-resolution display with a Dual-Link DVI connector and Nvidia's Xtreme-HD technology, which supports resolutions of up to 2560x1600.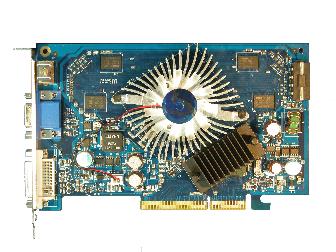 The Albatron AGP7600GS
Source: Company