ASRock recently announced that its ConRoeXFire-eSATA2 motherboard officially received the Windows Vista Premium logo, which makes it among the first Vista Premium motherboards in the world. ASRock's ConRoeXFire-eSATA2 officially got the Windows Vista Premium logo on October 5, 2006, according to the company.
In the past eight months, ASRock engineers had been cooperating with Microsoft Taiwan WHQL lab for all of the DTM (device testing manager) test items, running tests and fixing bugs for the qualification. DTM is a test for Windows Vista, which includes 43 test items that involve systems, chipsets, software, aging and reliability category.
The ASRock ConRoeXFire-eSATA2 supports the Intel Core 2 Duo/Pentium D/Pentium 4/Celeron D processors, a FSB 1066/800/533MHz, dual-channel DDR2 667 x4 DIMM slots, PCI Express (PCIe) x16 slot and an additional AGI Express slot. The ConRoeXFire-eSATA2 supports four Serial ATA2 (SATA2) connectors (3.0 Gb/s), with the adoption of ICH7R designed to support RAID (RAID 0, RAID 1, RAID 10, RAID 5 and Intel Matrix Storage), NCQ, AHCI, two eSATA2 connectors (3.0 Gb/s), Gigabit LAN 10/100/1000 Mb/s and two IEEE1394 ports. In addition, the ConRoeXFire-eSATA2 features 7.1-channel high-definition audio powered by Realtek's ALC888 codec.
The ConRoeXFire-eSATA2 is now available worldwide and has a recommend retail price of 795 yuan in China, according to the company.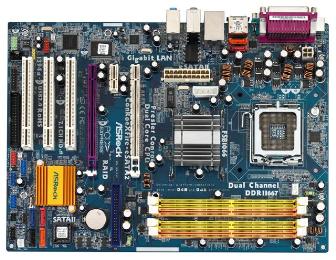 ASRock ConRoeXFire-eSATA2
Source: Company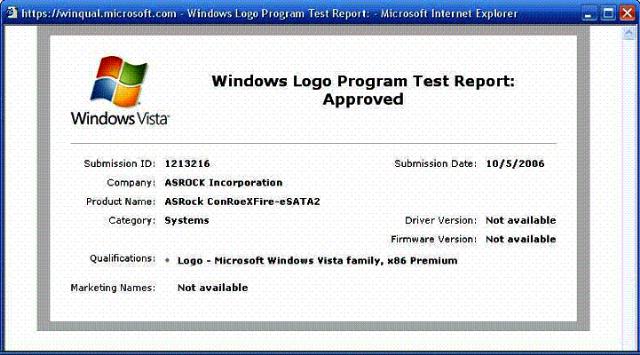 The ConRoeXFire-eSATA2 receives the Windows Vista logo
Source: Company