The W610 Walkman phone builds on the look of earlier Walkman phones to combine mobile music with a digital camera, says Sony Ericsson. The W610 stores up to 470 full-length music tracks on the 512MB Memory Stick Micro (M2) provided in the box and also offers the TrackID music recognition application; a feature that lets you record a clip from the FM radio and quickly receive a notification of the track name, artist and album, the company adds. Additionally a 2.0 megapixel camera with auto focus makes the W610 a wonderful fusion of phone, music player and digital camera.
The W610 Walkman phone is a fully specified music phone that does not compromise on its digital camera offering, claims Sony Ericsson. As well as the 2.0-megapixel camera with auto focus, video recording and playback, the W610 provides a horizontal camera menu – so you can hold it as you would a regular camera when taking a picture – and a picture blogging facility for uploading photos directly to an online blog site. The W610 includes an RDS FM radio and come in orange or black.
The W610 Walkman phone is an EDGE 850/900/1800/1900 music camera phone and will be available in selected markets from the second quarter 2007.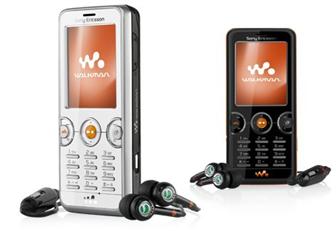 Sony Ericsson W610 Walkman phone fuses phone, music, and digital camera in one
Photo: Company