Nikon on March 6 introduced the successor to its D40 digital SLR camera, the 10.2-megapixel D40x. The D40x maintains the same size, portability and ease-of-use as the D40 and includes faster continuous shooting capability and wider ISO sensitivity, according to Nikon.
The D40x powers-up in 0.18 seconds and can shoot up to three pictures per second, non-stop for up to 100 shots, stated Nikon, adding that the D40x's 10.2-effective megapixel CCD imaging sensor is complimented by Nikon's exclusive 3D Color Matrix Metering II and an improved Nikon Image Processing Engine.
The D40x has a 2.5-inch color LCD screen that displays everything from menu options, pictures in playback mode and Nikon's new visually-intuitive information display system that presents camera and shooting information in a user-friendly, graphically represented way. The camera also features a built-in help menu that can be accessed at the touch of a button.
The D40x includes eight preset modes, including a new Flash Off mode that shuts off the camera's flash and boosts its ISO so users can easily take pictures in places where flash photography is not allowed, inappropriate or when they prefer the look of naturally lit pictures. As users gain experience with the camera, the D40x offers advanced controls such as Aperture-priority and Shutter-priority modes that offer greater creative control over the look and feel of their pictures.
The D40x's new Retouch menu offers exclusive in-camera image editing features that allows users to retouch photos without the need for a computer. Included in the Retouch menu is Nikon's D-Lighting, which brightens dark pictures and Red-eye correction that automatically detects and corrects red eye. Image Trim allows for cropping of an image and creates smaller files for easy e-mailing.
The D40x comes packaged with the new 3X 18-55mm f/3.5-5.6G ED II AF-S DX Zoom-Nikkor lens that allows the versatility to capture everything from candid portraits to wide-angle landscapes. The D40x is also compatible with all of Nikon's AF-S and AF-I Nikkor lenses, including the 18-135mm f/3.5- 5.6G ED-IF AF-S DX Zoom-Nikkor lens and the new 55-200mm f/4-5.6G IF-ED AF-S DX VR Zoom-Nikkor lens.
For flash photography of subjects at greater distances, the light and ultra-compact SB-400 Speedlight proves to be a perfect companion to the D40x, providing a simple solution for adding more power and bounce flash capability. Keeping with the D40x's remarkable ease of use the, SB-400 Speedlight is as simple as sliding it on, turning it on and shooting.
The D40x will be available throughout the United States beginning April 2007 at an estimated selling price of US$729.95 for body only or US$799.95, packaged with the 3X zoom 18-55mm f/3.5-5.6G ED II AF-S DX Zoom-Nikkor lens.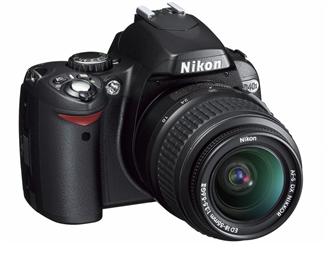 The Nikon 10.2-megapixel D40x digital SLR camera
Photo: Company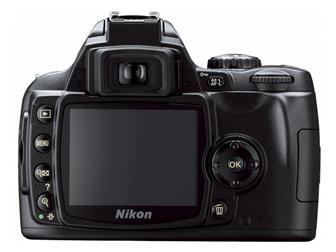 The Nikon 10.2-megapixel D40x digital SLR camera, back view
Photo: Company