Super Talent Technology, a US-based manufacturer of DRAM memory modules and flash products, has announced a range of solid state disk (SSD) drives with an industry standard Serial ATA (SATA) interface.
This new line of SATA drives is offered in industry standard 1.8-inch, 2.5-inch, and 3.5-inch form factors, making these drives 100% compatible with conventional hard disk drives, according to the company.
Super Talent's 1.8-inch SATA drives are offered in up to 32GB capacities; 2.5-inch drives are available in up to 64GB; and for high capacity requirements, Super Talent offers a 128GB 3.5-inch drive.
These products are built with only solid state flash components. Since they contain no moving parts, SSD drives have the advantage of being far more rugged and reliable than regular hard drives while using 85% less power, claimed the company. Moreover, because SSD drives are built using flash technology, they offer sequential transfer speed comparable to magnetic drives and dramatically faster access speeds.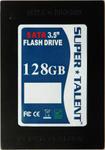 Super Talent SSD
Photo: Company