T-Mobile has announced the international launch of the world's first Android-powered mobile phone in partnership with Google. Available soon only for T-Mobile customers spanning two continents, the T-Mobile G1 combines full touch-screen functionality and a QWERTY keyboard with a mobile Web experience that includes the popular Google products, including Google Maps Street View, Gmail, YouTube and others.
In addition to one-touch access to Google search, the T-Mobile G1 is also the first phone to provide access to Android Market, where customers can find and download applications to expand and personalize their phone to fit their lifestyle. Android Market applications include an application designed to help people do comparative shopping, a scheduler and an application that enables people to create a step-by-step visual map using photos.
The device will be available at select T-Mobile retail stores and online in the US beginning October 22, for a price of US$179 with a two-year voice and data agreement. The T-Mobile G1 will also be available in the United Kingdom beginning in November, and across Europe in the first quarter of 2009. Countries include Germany, Austria, Czech Republic and the Netherlands.
Working together, T-Mobile, Google and HTC integrated Android and T-Mobile services into the phone's form and function, the companies noted.
The G1 also has built-in support for T-Mobile's 3G and EDGE network as well as Wi-Fi, the T-Mobile G1 can connect to the best available high-speed data connection for surfing the Web and downloading information quickly and effortlessly.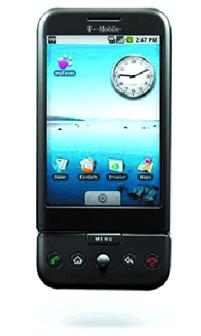 Photo: Company