SIMSAFE Medical Instrument Management and Advantech's POC-C177 at Shimane University Hospital
Press release
Shimane University Hospital is a large, teaching hospital in Japan with a school of medicine, school of nursing, and a medical university. During surgical procedures, the hospital must keep track of its surgical instruments, counting everything from pins to scalpels. The hospital outlined a project to use advanced technology to build a system that would assist in instrument management.
The goals were to prevent accidents like leaving an instrument in a patient, eliminate lost or misplaced instruments, increase safety and efficiency, prevent hospital infection and reduce work and medical instrument costs. These important safety issues have already led to legislation in Europe and the United States, and over time will likely become mandatory in medical care facilities worldwide.
Solution
The hospital implemented a solution using RFID technology and medical-grade terminals to trace and manage medical instruments. KRD Corporation Ltd, a technical solution provider founded in Yamato, Japan in 1991, created SIMSAFE, a surgical instruments safety system which uses RFID tags to individually manage surgical instruments. Advantech's POC-C177 Point-of-Care terminal was chosen as the platform for the system. Using SIMSAFE provides the hospital with the ability to trace instruments from start to finish of a procedure. Advantech's POC-C177 is an easy-to-use multimedia computer which can recognize and record individual RFID tags using its RFID reader and antenna. It is installed on mobile medical carts and used for registration of instruments prior to commencement of surgery. The cart can then be moved out of the way during an operation. Shimane's use of the system saves in labor, and more importantly, prevents accidents and increases safety with its sure-fire management control, done right at the "front-line" of medical treatment.
System
Shimane University Hospital installed Advantech's POC-C177 Point-of-Care terminals. The terminals have 17" TFT-LCD displays, and an IntelR Atom processor with 1GB of SDRAM. They support a wide range of peripherals, 100 Mbps Ethernet, and touchscreen control, making them extremely flexible. The RFID controller and antenna are attached to a COM port, and the system uses Bluetooth to communicate with a PDA barcode/RFID reader. The system is attached to the hospital's information systems, and the SIMSAFE application software handles the instrument management, recording and storing of RFID tag information, and keeping tabs on where the instruments are located. Pre-op registration and post-op verification ensures nothing is misplaced.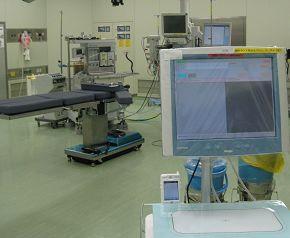 Shimane University Hospital installed Advantech's POC-C177 Point-of-Care terminals
Finding more case study articles
DIGITIMES' editorial team was not involved in the creation or production of this content. Companies looking to contribute commercial news or press releases are welcome to contact us.