FSP Group launches new comprehensive power supply products
Press release
Taipei, Taiwan - May 27th, 2013 - In pursuit of a sustained business direction: "To be a supplier of a full range of Green power supply solutions", FSP Group -- the Global leader in the provision of power supplies -- has launched scores of power supply products this year that are based on "energy saving and environmental protection". The very wide range includes power supplies for PCs and IPCs and for medical instruments; LED power supplies; power supplies for cloud applications; UPS; power banks and energy storage systems. The power supply products and innovative energy storage system unveiled by FSP this year will turn your stereotyped ideas of conventional power supplies upside down. See below for outlines of some of these products and visit us at Booth I0417a, Floor 1, Taipei World Trade Center Nangang Exhibition Hall.
PC power supplies:
FSP Group is to reveal its latest innovative "Digital Power Supply" during the coming trade show. This innovative power supply allows users to monitor the instant load status of the 3.3V/5V/12V through a software interface to ensure optimized operation conditions by controlling the temperature within the computer casing or even the fan speed. By applying FSP Group's patent MIA ICTM chip set in Intel's 4th generation Core i series "Haswell" platform, you will learn that its zero current startup (ZCS) function oriented chip design not only complies with the "Haswell" processor demand for 0.05 amp, but also an incredible zero amp current! Choosing an FSP Group power supply will help you maintain your leading position in host computer applications and also ensure your peace of mind during platform migration!
Adapter products:
FSP Group has also unveiled a full range of Adapters featuring DOE level VI and ErP Lot 6 energy saving specifications compliance and high efficiency as well as the ability to operate at an elevation of 5,000M for military and special use. Besides, the Twinkle 65, FSP Group's brand adapter, is now the most compact and light-weight 65W notebook charger in the world. With various exchangeable socket connectors and 8 types of notebook plugs, you can use it in 157 different countries and districts in the world for almost every leading brand of notebook. Compared with other brands of notebook chargers on the market, the Twinkle 65 is 50% smaller and lighter (weighs as little as 100g). The Twinkle 65 completely outperforms competing products of the same wattage with its small size, light weight, and up to 91% power conversion efficiency.
Cloud application solutions:
FSP Group has launched a range of industrial power supplies to meet the demands of the cloud market. The 80+ Platinum IPC power supply with PMBus v 1.2 digital power communication protocol that you can see at our booth at the Computex trade show features up to 1400W output power and 30.8 Watt/in3 power density. An advanced power supply rarely found in the market today.
LED power supplies:
In addition to last year's 1-to-2 wireless control power supply, FSP Group has launched the 1-to-5 this year. Using an app downloaded through your smart device or a conventional remote control, you can control lighting with Zigbee, Bluetooth, or Infrared for much improved convenience. The FSP LED power supply comes with embedded sensors featuring several patented technologies and is poised to bring a whole new lifestyle to the modern consumer.
Energy storage system:
FSP Group is moving towards integrated power supply and energy storage equipment and is expected to unveil its first backup power system at this year's Taipei Computex. With dimensions similar to a conventional piece of luggage this large capacity mobile power supply provides up to 3.4kWh of power for your home appliances during a grid power outage. With an external solar panel it can convert sunlight into electricity at an efficiency rate of above 90% using an embedded PV charger. This is a really green and most advanced environmentally friendly power solution indeed!
FSP Group will be showing its latest power supply products at 2013 Computex Taipei from June 4 to 8. Please visit our booth and take part in the daily computer game race. In addition to a gift for joining the game each day's champion winner will receive an FSP AURUM 92+ Platinum power supply. In addition, you can get the beautiful one gimmick during the trade show by joining our Facebook program. Just take a portrait shot at our booth, with the FSP logo, upload to our fans' page at https://www.facebook.com/FSP.Taiwan, add message ""FSP 20th & Twinkle 65" and click "Like". Available gimmicks are limited so you better hurry once the tradeshow starts. Visit our website at www.FSPLifestyle.com for details.
For more product information:
FSP Corporate Website: http://www.fsp-group.com/
FSP Retail Product Website: http://www.fsplifestyle.com/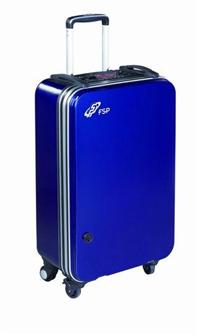 The FSP energy storage system is stylish and mobile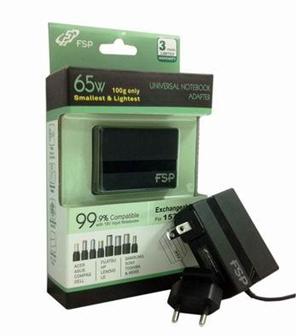 Twinkle 65 The top compact and light- weight 65W notebook charger worldwide
DIGITIMES' editorial team was not involved in the creation or production of this content. Companies looking to contribute commercial news or press releases are welcome to contact us.