Specialized in the development of hydrogen fuel cell systems for real world application, YC Synergy Co., Ltd. unveiled its first fuel cell power solution designed for passenger boat applications at the Taiwan International Boat Show. At the event, the company offered free rides on Asia's first zero-emission, eco-friendly yacht, winning warm reception by visitors and boating enthusiasts.
Clean power enters new era with fuel cell technology
YC Synergy was founded in 2012, and the team has many years of experience in polymer electrolyte membrane fuel cells (PEMFC). Since its inception, the company has closely engaged in technological exchange and cooperation with boat builders, eventually leading to the development of a fuel cell system for electric boats. During the past few years, amid a backdrop of government initiatives to encourage the use of fuel cell vehicles in Japan, the U.S. and parts of Europe, Hyundai rolled out hydrogen-powered cars in North America and Europe while Toyota and Honda announced plans to start mass production of fuel cell vehicles in 2015. The increasingly mature fuel cell technology and applications then prompted YC Synergy to decide to put its technology to work in motor vehicles.
Mark Huang, General Manager of YC Synergy, said: "Since 2012, we have been building relationships with yacht makers with an aim to seize the critical position in this industry's supply chain and to educate the market about the benefits that fuel cells offer. This year, with the launch of our first fuel cell system developed for electric boats, we are all set and ready to come to this promising application."
According to a research of SBI Energy, the fuel cell market grew from US$420 million in 2007 to US$775 million in 2012, and the market is expected to grow rapidly to reach US$4.2 billion by 2017.
Given an increasingly crowded market, YC Synergy has identified and developed a market niche by focusing on fuel cells for use in yachts, an industry that Taiwan is competitively positioned for internationally.
A competitive differentiator created for yacht makers
For an electric boat, the power and propulsion system must deliver both instant power and sustainable cruise speed for long runtime. YC Synergy's fuel cell system solution for electric boats combines its proprietary fuel cell technology with a variety of battery and boat motor products, with all components seamlessly integrated to meet the propulsion and energy management needs of electric boats.
"An all-electric system not only delivers an unparalleled ride experience for passengers, but also helps to minimize the environmental footprint without the exhaust emissions and oil leaks resulting from conventional internal combustion engines," Huang said. Moreover, this system brings to Taiwanese boat builders a competitive differentiator that allows them to create and capture "blue oceans" in international markets instead of competing on prices.
Christened "Mu Yang," the zero-emission, all-electric yacht that debuted at the Taiwan International Boat Show was built by Lung-ye Enterprise and equipped with YC Synergy's fuel cell technology. The boat design has the capacity to carry up to 50 people. To date, YC Synergy has developed fuel cells ranging from 1kW to 6kW, and these fuel cells can be combined in series and parallel circuits to yield higher voltage for the use of larger-sized passenger and tour boats.
Market gains via integrated solutions
A hydrogen fuel cell vehicle is refueled at much the same speed as a natural gas vehicle. 100 kWh equivalent of energy can be refueled in five to 10 minutes, versus as long as eight hours for a battery counterpart. For a hydrogen-powered boat, the ease of refueling allows for greater efficiency and convenience.
In the past, a multi-battery system was required to extend the runtime for an electric boat, thus adding weight and dramatically increasing costs. In comparison, a fuel cell boat can significantly extend its cruising range by simply adding hydrogen cylinders fitted on-board at a modest cost increment. The benefits of a fuel cell system not only apply to small boats, but also to large electric vessels.
Huang noted that despite safety concerns over the use of hydrogen as a fuel, the growing popularity of natural gas vehicles has somehow acquainted the public with the use of gaseous fuel. The SAE International and transportation authorities in Japan and the euro zone have set technical standards for hydrogen fueling, leading to wider adoption of the hydrogen technology among automakers and driving consumer interest in and demand for hydrogen fuel cell cars.
As a new entrant to the yacht industry, YC Synergy focuses its technology on fuel cells, but the demand for customized power solution has prompted YC Synergy to take on the role of an integrator, bringing together components and subsystems including the motor, the hydrogen storage system, batteries and solar panels into a whole. The company also maintains close relationships with manufacturing partners to ensure a high level of flexibility as it crafts the best hydrogen-based power systems tailored to customer requirements.
The evolving hydrogen fuel cell technology, coupled with increasing penetration of fuel cell vehicles, is paving the way for rapid growth of next-generation sailing boats. According to Huang, ongoing government initiatives should accelerate the pace of development of clean-energy boating applications, drive the formation of new blocks within the yacht supply chain and spur new industry applications, and he expressed his confidence in the future prospects of hydrogen fuel cell boats.
Mark Huang, General Manager of YC Synergy, unveils the company's latest fuel cell system at the Taiwan International Boat Show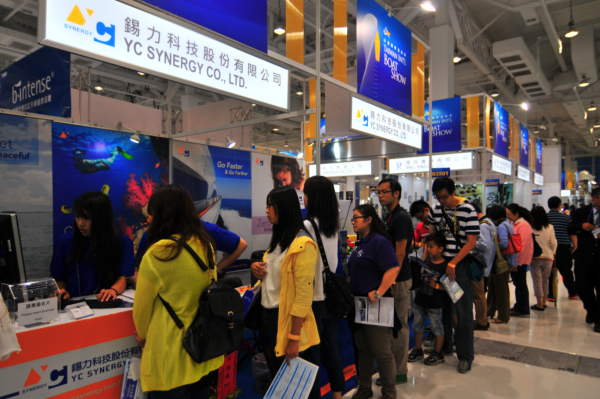 Visitors stand in a long queue for a free ride on an all-electric yacht powered by YC Synergy's fuel cell technology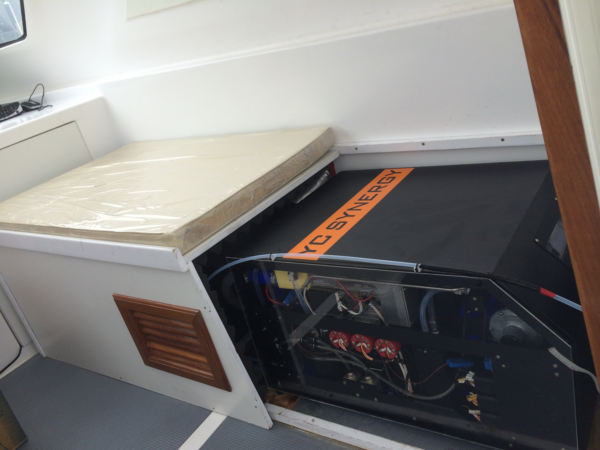 The fuel cell system that powers the Mu Yang all-electric boat
DIGITIMES' editorial team was not involved in the creation or production of this content. Companies looking to contribute commercial news or press releases are welcome to contact us.