Innodisk introduces the world's smallest embedded RAID 1 Solution
Press release
Innodisk, the service-driven provider of flash, memory and peripheral modules for industrial and embedded systems has introduced the world's smallest RAID 1 solution. As embedded systems and devices became smaller, there are more and smaller form factor storage devices that include 2.5", mSATA and M.2 SSDs that can be used as boot-up disks or data disks in small systems.
Small industrial or embedded systems usually have small-size, small- capacity embedded storage. For data security and installation of the operating system, it is difficult to have a quick and simple backup solution. In order to prevent the disk failure, Innodisk's embedded RAID 1 solution can achieve real-time synchronization of information to ensure service continuity.
Furthermore, with the purpose of allowing users to monitor the status of the RAID card at any time, the RAID 1 embedded expansion card provides a set of Windows management tools, called iRAID. In addition to monitoring RAID card status, iRAID provides e-mail notifications for abnormal conditions and specified events. iRAID, used with Innodisk's SSDs for full SMART information, gives users complete control over their SSDs.
Product Information
Innodisk iRAID is a software tool for RAID cards. It simplifies the configuration and management of Innodisk's RAID controller and provides a user-friendly interface that can be used in different types of systems. The iRAID software tool is suitable for the following RAID cards:
Ć ELPS-32R1 provides PCIe x4 and support M.2 SSD
Ć E2SS-32R1 /E2SS-32R2 provides 2.5"form factor and supports mSATA and M.2 SSD
Ć EMPS-32R1 provides mPCIe interface and supports SATA SSD
Ć EMSS-32R1 provides mSATA interface and supports SATA SSD
The Innodisk RAID card series with iRAID is currently available. For additional information, please contact your local Innodisk sales representatives or distributors, or visit us at http://www.innodisk.com/.
About Innodisk
Innodisk (Taiwan: 5289) is a service-driven provider of flash memory, DRAM modules and embedded peripheral products for the industrial and enterprise applications. With satisfied customers across the embedded, aerospace and defense, cloud storage markets and more, we have set ourselves apart with a commitment to dependable products and unparalleled service. This has resulted in products, including embedded peripherals, designed to supplement existing industrial solutions and high IOPS flash arrays for industrial and enterprise applications. The expanded business lines are leading our next step in being a comprehensive solution and service provider in the industrial storage industry.
Founded in 2005 and headquartered in Taipei, Taiwan, Innodisk supports clients globally with engineering support and sales teams in mainland China, Europe, Japan, and the United States. With abundant experience and an unrivaled knowledge of the memory industry, Innodisk develops products with excellent quality, remarkable performance, great cost-efficiency, and the highest reliability. For more information about Innodisk, please visit http://www.innodisk.com/.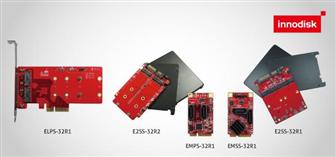 Innodisk introduces the world's smallest embedded RAID 1 Solution
DIGITIMES' editorial team was not involved in the creation or production of this content. Companies looking to contribute commercial news or press releases are welcome to contact us.