This Digitimes Research Special Report examines the China AMOLED industry, focusing on the expansion capacity of the makers, the current implementation plans of major smartphone vendors in the market and the technological hurdles faced by China's makers.
Abstract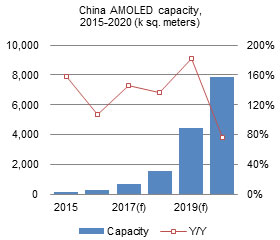 One of the hottest areas of investment in the display panel industry in 2017 is coming from the AMOLED sector, with China being ground zero for capacity expansion. According to Digitimes Research, seven China-based panel makers have been expanding existing or setting up new AMOLED production capacities, with the total annual capacity estimated to increase from 272,000 square meters in 2016 to 1.584 million square meters in 2018, 4.464 million square meters in 2019, and 7.864 million square meters in 2020, representing an overall CAGR of 131.9% from 2016-2020.
In 2020, BOE Technology will be the largest China-based AMOLED panel maker, accounting for 35% of the country's annual production capacity, while Tianma Micro-electronics will have a 17.6% share and Visionox will account for 14% of the capacity.
However, this dramatic growth for China makers is coming from a trailing position from its peers in South Korea. For example, Samsung Display and LG Display had a combined annual production capacity of 4.945 million square meters for AMOLED panels in 2016 and the total capacity will increase to 15.130 million square meters in 2020 at a 2016-2020 CAGR of 32.3%.
It should be noted that these two makers are relatively focusing their expansion on flexible AMOLED panels, with the proportion for flexible models to increase from 46.1% in 2016 to 72.6% in 2020. It may be difficult for China-based AMOLED panel makers to obtain orders from Apple and other international smartphone vendors at least in the next five years, as they are technologically inferior to Samsung Display, but their products are likely to be adopted by local smartphone vendors whose global market share is rising, according to Digitimes Research.
China AMOLED makers face two major barriers in the development of their products: increasing resolution and harnessing plastic substrate technology. Samsung Display is significantly superior to China-based makers in these two areas.
For the two key technologies, China-based EverDisplay Optronics (Shanghai) in 2017 is expected to attain the level that Samsung Display reached in 2014. EverDisplay is lagging three years behind, while other China-based makers are behind even further by 1-2 more years.
In manufacturing AMOLED panels, yield rates for evaporating light-emitting materials are a bottleneck and the yield rates decrease as resolution increases. Among China-based makers, only EverDisplay and Truly Opto-Electronics are capable of producing Full HD AMOLED panels currently, and Kunshan Go-Visionox Optoelectronics, BOE Technology and Tianma may be able to do that by the end of 2017 and/or mid-2018.
Moreover, Samsung Display began production of flexible AMOLED panels using PI (polyimide) materials in the second half of 2014. China-based makers have unveiled such panels but cannot start volume production until 2018.
Table of contents
Price: NT$30,000 (approx. US$1,000)