Auden bridging electromagnetic development and IoT solutions
Sponsored content
Fifth-generation wireless technology (5G) is attracting a lot of public attention. These industrial communication standards are under developing and preparing to launch for the public services from 2020. Japan, China, Korea and Taiwan governments set several 5G action plans aiming to gain the leadership in the deployment of 5G networks. There are some substantial investments in new infrastructure and testing results show the possibility to provide 5G services earlier in some cities.
The business opportunity for 5G is massively related to Internet of Things (IoT), an evolution that will take the internet applications into new territories including self-driving vehicles, robotics, biomedical medicine, automated factories, smart cities and the development of massive sensor networks in various public services. It will speed up the velocity to change our daily life and gain benefits from offering convenience in the modern cities.
In the other hand, it has the critical importance of electromagnetic (EM) field interactions in human body recently. The new developed type of medicine to use specific frequencies modulate cellular function to restore or maintain health been recognized. The development of biomedical electronics and advanced medical solutions will be the next big steps for Taiwan technology industries.
Nearly all of these wireless technologies put radio frequency energy right on the human body, increasing exposure to radio waves among us. The interaction between human and electromagnetic fields have been highly considered by research institutes and technology industries. Auden Techno Corp and IEEE EMC Taipei Chapter join together to host the event named "Next generation smart life with Bio-electromagnetics and advanced telecommunication technology forum" at Evergreen International Convention Center of Chang Yung-Fa Charity Foundation on July 6th 2017, featuring a variety of technology sessions and various afternoon sessions with three major tracks. This is also the second consecutive year that both organizations to host this event together.
The morning sessions with keynote speeches covering several main themes of IoT education program, Electromagnetic measurement system for 5G millimeter wave frequency bands, Bioelectronic medicine for seizure treatments and 5G massive MIMO design and verification.
Auden Techno Corp, founded 1981, provides long time R&D services to help customers to build and manufacture antenna systems to fit the requirements of mobile communications, automotive electronics, smart home and industrial applications. For providing better service to the customers with complete front-end design, pre-development testing and product authentication, Auden invests several compliance testing laboratories cross Taiwan straits including the first SAR (specific absorption rate) testing Lab in Taiwan. By actively leveraging the testing lab efforts and RF technology core strength, Auden tries to help Taiwan ICT industry to shorten the gap to develop bioelectronics medical devices aiming the professional medical solutions especially the business opportunities of FDA regulated Class 3 medical devices.
NTU advanced IoT education programs cultivate young talents
The keynote speech of Professor Ruey-Beei Wu is focus on the education programs for cultivating the young talents aiming IoT and cloud solutions. Professor Wu served as the President of the Institute for Information Industry (III), Taiwan government funded software technology research and development institutes. He is very familiar with Taiwan ICT industries. His presentation starts from the technology trends and current stage of IoT development. While market research revealing smart services as a key success factor of IoT innovation, he highlights the importance of cultivating cross-domain experience for Taiwan young talents. And it is the sure pursuit for the universities to enable industrial collaboration and offer training programs for the innovative talents.
As changing application landscape makes it vital for the IoT services to continuously evolve and pursue greater achievements through innovation and education. According to the research reports, the big five IoT applications are manufacturing, healthcare, retail, energy and transportation. Wu points the smart manufacturing services will have the best opportunity in Taiwan. He started to design IoT education programs in the Department of Electrical Engineering of National Taiwan University (NTU) since 2016. This cornerstone program includes the 42-hour classes for introducing of IoT industry and the last 12 hours for term report and corporative project demonstration. In the program, there is one 12-hour session called hands-on design involving different creative IoT ideas and design implementation. The students use open source software and some simple hardware development kits to build a working system such as car parking automatic billing service. Those creative ideas mostly come up with their own experiences in everyday life. The final term report session is even more excitements for the students to compete and learn by demonstrating the design implementation. Through this program, students could learn IoT software programming, web interface and technology to access sensors making them become to be a creator or innovator in IoT, not just a simply consumer, Wu highlighted.
In 2017, the new courses with development of IoT capstone programs, Professor Wu kicks off on special project program to let students to choose the various topics with more fun in developing new system concepts and information infrastructures. These advanced IoT education programs have been widely recognized and try to set cooperative plans to integrate with high school summer camps or experimental programs. It starts from small ideas of everyday living environment and gains the experience to show students for developing the specific services to solve the specific problems. These programs will also help the next emerging technology development like artificial intelligence or immersive reality.
Upbeat SAR testing systems for 5G frequency bands
The 5G mobile device RF exposure and equipment authorization requirements under 6 GHz frequency bands have under developed in FCC and IEEE. Especially the standards to provide additional guidance for SAR measurements that addresses devices operating in the sub-6 GHz range and how RF exposure compliance should be reported and the availability of testing systems are all urged to kow by industries and technology community. The chipset makers, system design houses are introducing different implementation to try to take lead in the industry. The standards, regulated compliance, testing instrument are the key to verify the design they have.
Professor Niels Kuster founded IT IS Foundation and Schmid & Partner Engineering AG(SPEAG). Both organizations have developed instrumentation, methods, and procedures for international standards to ensure that SAR measurement standards are implemented for evaluating compliance of wireless products with electromagnetic exposure guidelines.
Auden cooperated with SPEAG for 20 years and represented in Taiwan and China market to introduce SPEAG series testing instruments or systems including cSAR3D, EM Phantom, DAK, TDS and Sim4Life systems.
The keynote speech of Professor Kuster gets participants' attentions on the topic named "Novel Electromagnetic System for Demonstration of Compliance of 5G Millimeter Wave Near-Field Sources with Safety Guidelines". His presentation is trying to demonstrate the results for audiences to show recent development of electromagnetic systems for measuring SAR and power density in millimeter wave (MM wave) environments.
Professor Kuster highlights the status of current SPEAG systems measure SAR to 10GHz. Using the existing design of E-field probe and maintaining the same Phantom surface is in the SPEAG systems. But the calibration system needs to be redesigned for fitting the new requirements. The draft proposal sent to FCC and had early discussion. It will have a draft to be released in October 2017.
The SAR testing systems with frequency bands between 10 to 110 Ghz have started to design and evaluate in SPEAG. The calibration systems and E-field probes will have brand new concept to implement. And the simulation algorithm and testing optimization is also addressed and good results in the beginning stage. The schedule to release the draft will be the end of 2017.
There are several cool topics in the forum to get attentions. Professor Jyh-Yih Hsu, National Chung-Hsing University - Department of Applied Economics, talks the topic of exploring business models in the development of IoT and big data analytics. His speech provides the unique angle of Taiwan manufacturing service providers strengthening in the semi-automation management scope and establishment of production know-how in various sectors. He observes the unique position of Taiwan manufacturing with the capability of flexible and adaptive manufacturing process to win the orders from international brands.
In the MIMO antenna design session, Mr. Kin-Lu Wong, Professor of NSYSU Antenna Lab, presented the testing results of various antenna design for mobile devices in the sub-6 GHz spectrum bands. His presentation shows ways to more efficiently access the radio spectrum over the design with 4 or even 8 to 12 antennas in the new smartphone models or other mobile devices.
The motivation behind his study is the exponential growth in wireless applications. The effective bandwidth will need to reach at least 2 Gbps for improving the user's experience in the 5G era. The momentum in designing, testing and implementing these various kinds of systems will be continuing to take bold steps within the coming years. Although the standards still under associating with different organizations, it might not be that far away because some companies are talking they will have 5G systems up and running by 2020. We will follow these trends and continue to see the new things to change our everyday life in the future.
Afternoon session hosting three parallel tracks to provide further viewpoints
There are three parallel tracks and total 18 discussed topics to choose from participants in the afternoon sessions. In the 5G communication track, Professor Cheng-Nan Chiu, Communications Engineering Department of Yuan Ze University, as a moderator to introduce speakers to give speech covering topics of 5G technology roadmaps, measurement methods, antenna applications from LTE-M to NB (Narrow Band) IOT & LPWAN Technology. Professor Niels Kuster also gives another presentation named "Combined HPC-enabled computational platform with an advanced scanning system for evaluating performance and EMC in the near- and far-field of 5G Millimeter Wave Transmitters.
In the Biomedical Application and Electromagnetic track, the moderator JianJang Huang, professor of Communications Engineering Department, Yuan Ze University, invites speakers from Taiwan National Health Research Institutes to address topics of Application and Safety test of Electrical Stimulator, Aesthetic Medicine and Phased array dipole antenna for cancer treatment modality. Dr. Erdem Ofli, Product Head (IT'IS Foundation and ZMT) also give his speech of "Simulation Platform and Validated Hardware Solutions for Active Implant MRI Safety Assessment According to ISO/TS10974".
The IoT and application track, hosted by Professor Ding-Bing Lin, invites speakers from ITRI, Institute for Information Industry and UL. The topics include IoT in mass transportation systems, THREAD and IoT development, big data analytics and platform. The participants have the chance to get to know the trends of IoT and digitalization development of different industries.
With the share the viewpoints of invited talented speakers and professors, this forum is trying to provide the technology development of 5G, Bio medical and electromagnetic. And the hottest topic of IoT development to help Taiwan technology industries and research institutes to explore the further opportunities of Taiwan.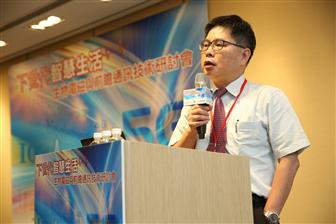 Prof. Dr. Ding-Bing Lin, the Chairman of IEEE Taipei Chapter EMC Society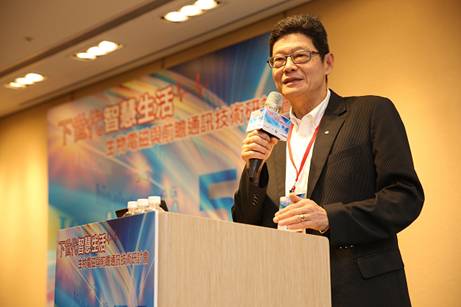 Dr. Yu-Bin Chang, the Chairman of Auden Techno. Corp.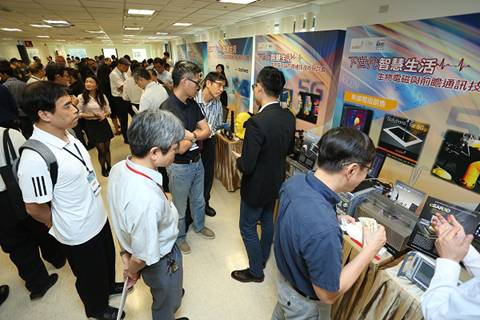 Auden bridging electromagnetic development and IoT solutions
DIGITIMES' editorial team was not involved in the creation or production of this content. Companies looking to contribute commercial news or press releases are welcome to contact us.