Morris Chang: A banquet that marks the conclusion of an era
Colley Hwang, DIGITIMES, Taipei
Taiwan Semiconductor Industry Association (TSIA) recently hosted a banquet to bid farewell to Morris Chang following his retirement. The guests there - including leaders in the tech industries and government officials - were all eager to hear the "commander in chief" (that's the nickname of the former TSMC chairman) share his years of experiences in the semiconductor industry.
Chang said the first transistor was invented in 1947, which was an early form of semiconductor device. In 1952, Texas Instrument (TI) and Motorola acquired the patent from Bell Labs for several hundred thousand dollars, marking the start of the world's semiconductor industry.
It has been six decades since Chang entered the semiconductor business in 1955. He had the chance of meeting many high-tech pioneers, such as Gordon Moore. Chang witnessed the rise of the global semiconductor industry and he was a champion of Taiwan's semiconductor industry.
Taiwan's semiconductor business kicked off with the RCA project in 1975. However, early-stage developments only included government-sponsored small-scale trial or experimental projects until the establishment of Taiwan Semiconductor Manufacturing Company in 1987, the first major investment deal. By that time, Samsung, under the leadership of Kun-Hee Lee, had already stepped up the development of Korea's semiconductor industry in 1983 with full support from government.
Lee invited Chang, Acer founder Stan Shih and others to visit Samsung's semiconductor foundry in 1989, showing off the fact that his company had already established itself as a leading provider of memory chips at that time.
The guests from Taiwan were not frustrated and went on to help create a golden era for Taiwan's semiconductor industry. The industry leaders of Chang's generation helped Taiwan expand into worldwide markets, and overtake countries such as Japan, Germany, France and Britain in many aspects.
I wasn't involved in building Taiwan's the semiconductor industry, but had the chance of being a witness to the end of an era at the banquet.
I got to know Chang in 1995 when I was at Market Intelligence & Consulting Institute, a division of Institute for Information Industry (III). At the time, TSMC had been around for only seven to eight years and Chang often attended seminars we organized - always sitting in the front row
A few years later I founded Digitimes, and Chang was among its major investors - which also included Stan Shih, Matthew Miau, and Ken Tai. Chang also on Digitimes' board of directors for the first two terms. It was Chang's personal investment made with the goal to establish an independent and professional data service provider.
Already well known around the globe at that time, TSMC consistently advised that investments associated with integrated device manufacturers (IDM) would be too risky and IC design startups should stay focused and invest their capital on core technology research. It was also a critical time when TSMC's foundry service was taking shape.
Business executives must be both modest and confident
It is critical for a business to have influence in the industry. TSMC has always been able to stay on top of industry dynamics and lead a business model centered on itself at a global scale. This is made possible through the vision and confidence of the company's leaders and a great inspiration to many business operators.
At the farewell dinner, I was seated at the same table with TSMC CFO Lora Ho. Ho revealed that In the 19 years she had worked alongside Chang, Chang had reiterated on several occasions that business executives should be modest and confident - modest when listening to people's opinions and confident when making decisions. He believes all characteristics can be developed but only when you have a soul can you make profound influence.
Chang is a man with dreams and beliefs, a creative leader refusing to go with the flow and a professional executive upholding core values and ethics. At the first Digitimes board meeting, he said, "If you can't do something different. I'm not willing to give you any of my money." He was actually asking for a valid reason to invest in Digitimes as Taiwan already had a great number of media services.
He always demonstrated his commitment to advancing the interests of Taiwan. I think this may be his way of showing gratitude for Kwoh-Ting Li - architect of Taiwan's economic transformation who invited Chang to bring his know-how and vision back home.
Rational, professional, focused and goal-oriented
Rational, professional, focused and goal-oriented are the words I would use to describe Chang in view of his accomplishments in the three decades of career and the role he has played in history.
Chang is not a sentimental person but a rational business executive. In a meeting, he would not hesitate to ask those who have nothing to do with the issue at hand to leave. Sparing someone's feelings is never his concern when he interacts with people professionally.
In his 30 years with TSMC, his leadership has helped the company achieve great success with a US$200 billion market capitalization, in the same class as Intel. I remember when Texas Instrument Taiwan celebrated its 20th anniversary, Chang was invited to give a speech. He said, "Intel is the world's No. 1 semiconductor company, followed by TI and TSMC. The latter two combined cannot compare to Intel. Can we ever beat Intel?"
TSMC achieved that goal in 2017. Sharp-minded Chang has the courage to invest in cutting-edge technologies. He exhibits extraordinary confidence, not aggressiveness, in his business decisions. He leads the trend rather than follow it.
Chang has stayed focused on his core business for all his life. He has never misused his power to invest in upstream or downstream businesses. Since he returned to Taiwan, his only focus has always been foundry service and the success he is able to achieve has wowed the world.
TSMC has always aimed high. It is able to grab a 56% market share as it competes with heavyweights in the semiconductor manufacturing sector. TSMC has taken Taiwan to a new height. The company accounts for 3.5% of Taiwan's GDP, pays high salaries to a staff of 48,000 employees, enjoys a 50% gross profit margin, takes a more than 50% market share, allocates US$10 billion in annual capital expenditure and records a market capitalization exceeding US$200 billion. Each one of these represents an admirable achievement.
TSMC has allocated US$10.8 billion out of its US$32.1 billion annual revenue for capital expenditure. There are very few companies in the world able to maintain long-term success with such a high ratio of capital expenditure. The key is that TSMC's investments can keep generating returns in the long run. TSMC divides its business into three focus areas - advanced technologies, main growth drivers and mature technologies.
It competes for orders from world-leading customers with advanced technologies including 16/14nm and 7nm processes, for example, Apple's application processors, Qualcomm's communication chips and crypto mining machines with low energy consumption. For older process nodes, TSMC maintains dominant market leadership that is not to be underestimated amid an IoT era with diverse opportunities.
What kind of leader do we need?
When the world is keen on pushing process technologies toward 7nm and 5nm nodes, TSMC also provides all-inclusive services. According to Chang, as long as Moore's Law continues to apply, Taiwan can stay 6-7 years ahead of China. The commander in chief's insight and vision wraps up this period in semiconductor development and encourages Taiwan to keep pressing forward.
TSMC's new CEO and TSIA chairman CC Wei, in bidding farewell, said humorously that Chang was still reviewing work as usual days before his retirement and he still had to report to Chang in trepidation as always.
As Chang bows out, we will usher in a new era - the IoT era, extending from the times of PC and handsets. In the past, Taiwan competed with capitalist countries Japan and Korea; but going forward, Taiwan faces a new rival that speaks the same language and shares a common cultural root – a new China, looking to disrupt the global business model with its state capitalism.
Chang remarked, "I open the window and I don't see any red tide" - a reference to China. Chang sees the world as an arena where players compete for chances to excel. The battleground is not the narrow strip of water between Taiwan and China but the vast Pacific Ocean. The semiconductor industry where world-class players abound leaves no chance for opportunists with no soul but offers plenty of opportunities for leaders insisting on core values.
Chang could very well have said nothing about the gap between Taiwan and China. However, with six decades of expertise, he chose to offer advice as to how Taiwan can maintain its leading edge. For this, we are forever grateful. Good-bye Morris!
(Editor's note: Colley Hwang is president of Digitimes.)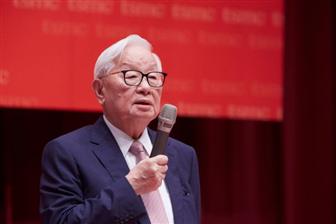 TSMC founder Morris Chang
Photo: Digitimes file photo