Smart transportation enabled by synchronized automatic traffic light control, says THI Consultants
Yihan Li, Taipei; Adam Hwang, DIGITIMES
Traffic lights along main roads can be synchronized by automatic control based on real-time conditions to ease traffic flows, accordig to Jessica Lin, president for intelligent transportation planning consulting company THI Consultants.
Such synchronized control relies on use of real-time data on vehicles running on the roads for building transportation models, Lin noted. Due to limited hardware technology, samples of running vehicles were collected instead of overall data for such modeling in the past, Lin said. But now, various radar sensors, AI-based image analytics, and on-board recorders based on IoV technology enable comprehensive collection of real-time data, resulting in reliable analysis of traffic characteristics, Lin indicated.
Such automatic control can also relax traffic congestion on highway ramps, Lin noted.
THI thinks big data collected by digital on-board recorders can help understand cars' physical operating conditions as reference for preventive maintenance.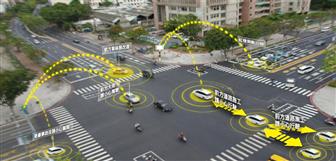 Synchronized automatic control of traffic lights
Photo: THI Consultants