Amid bleak outlook for downstream vendors, uncertainties surrounding the US-China trade tension, factory relocation and exchange rate volatility, global smartphone application processor (AP) shipments may experience further decline in 2019, down two years in row, according to Digitimes Research estimates. Qualcomm and Hisilicon will still be able to show moderate growth in their market shares.
Abstract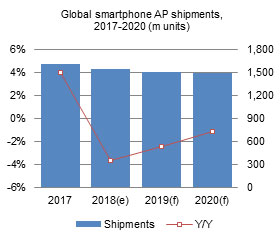 Worldwide shipments of smartphone application processors are expected to fall for the second consecutive year in 2019, as the outlook for the segment has weakened by uncertainty over the lingering US-China trade dispute, concerns of possible shifts of production capacity and volatile foreign exchange rates.
Despite the setback, Qualcomm and Hisilicon Technologies are still expected to see their market shares edge up slightly in 2019.
In addition to eyeing the emerging business opportunities from the 5G sector, Qualcomm has managed to secure additional AP orders out of the current top-five smartphone vendors, with its overall shipments to grow by a single-digit rate in 2019 to maintain its leadership with an over 40% market share.
Thanks to orders from parent company Huawei, Hisilicon will continue to ramp up its shipments and account for a higher ratio against all APs used by Huawei's smartphones in 2019, with prospects of seeing its shipments move toward a higher price segment. Huawei's thrust to expand its overseas sales will also offer ample opportunities for Hisilicon to further boost its shipments.
Meanwhile, the ratio of APs which come with an AI accelerator will be gaining momentum as AI-centric applications, such as image processing, biometric identification and customization of personal devices, are evolving fast on AP products.
The purchases of APs equipped with heterogeneous algorithm or neural network-like AI accelerators will account for over 40% of the global smartphone AP market in 2019.
Table of contents
Price: NT$45,000 (approx. US$1,500)