Leadtek AI solutions fully upgraded
Press release
Leadtek, a leading brand of global AI solutions, has completely upgraded its AI solution lineup this year, focusing on smart manufacturing, smart healthcare and health ecosystems. A wide array of top AI workstation solutions, server for data center solutions, VDI products, professional graphics cards and eSports graphics cards will be on display at the SmartTex AI & Robotics Zone - S0813 booth.
WinFast RTX data science and deep learning workstation
Leadtek exhibits workstations tailored for AI, data analysis, machine learning and deep learning. Powered by the Nvidia Turing-based Quadro RTX GPU, WinFast RTX Data Science Workstation series leads AI and data science workflows to a new level. Certified by Nvidia and designed for high-end market, WinFast RTX Data Science Workstation series carry Nvidia Quadro RTX 8000, RTX 6000 or GV100 professional graphics cards with up to 96GB GDDR6 memory, and NVIDIA CUDA-X AI software to accelerate deep learning frameworks such as RAPIDS, TensorFlow, PyTorch and Caffe, which can handle the largest data sets and compute-intensive workloads.
In addition, to satisfy different demand in each country and assist small and medium-sized enterprises to adopt AI application easily, Leadtek has launched the WinFast RTX Deep Learning Workstation series which is suitable for entry, medium and high-level use. Its high efficiency and stable computing performance are essential tools for data processing and AI model training. With very high compatibility and stability, WinFast workstations series have been extensively tuned for software and hardware development, allowing developers to start AI development as soon as they get the workstation, eliminating the complex works for environment preparation and debugging.
AI development environment with multiple information security protection
In order to fully utilize centralized server resources and collaborate and share communication through various networks, organizations must strictly protect all kinds of highly sensitive and confidential information stored in the data center. Leadtek's desktop virtualization solution, which combines Zero Client and Thin/Ultra-Thin Client multi-security protection mechanisms, has emerged to help users efficiently build highly secure AI development environments, such as built-in smart card verification, non-replaceable soldered memory, etc.
Build smart health + smart medical + smart care ecosystem with AIoT
Recognized by Taiwan Excellence Award, Leadtek continues to push the limit by introducing two next-generation health bands, amor H2 Pro and amor H2+. Amor H2 Pro inherits all of H2 features and adds eBP index. Different from the traditional sales model that only targets at end users, amor health band also provides a business system solution, including health promotion management services for members of different groups, which can be managed and actions recommended with the use of cloud platform. Amor H2+ is positioned for professional medical use. It has ECG record and AF detection (atrial fibrillation) functions, which is an essential preventive tool for people who care about cardiovascular health.
From the perspective of the overall product development strategy, Leadtek combines artificial intelligence and Internet of Things technology (AIoT + Medical + Health) to provide solutions for operators in smart health, smart healthcare and eco-systems. In response to demand by clinics, health centers, hospitals, remote care centers, health maintenance centers, community care bases, corporate workplaces and homes, Leadtek has developed terminal equipment such as DxPatch ECG Electrocardiograph/Phono Recorder, autonomic nerve detector, oximeter, health band, medical band, health station kiosk and wireless physiological measurer, plus cloud member health management app, health management platform web, video diagnosis and treatment platform app, providing end users with one-stop service of hardware and software cloud and big data, including health examination, disease diagnosis, precision medicine and long-term care.
In Taiwan, half of medical centers have been working with Leadtek on smart medical programs; there are successful cases from the initial screening of health examination, outpatient diagnosis, and even to post-discharge remote care. In terms of smart care, it has helped health care institutions, remote areas, and outlying islands to successfully adopt scientific care. Next, Leadtek will replicate Taiwan's experience in China, the UK, Thailand and other countries.
The world's best 8K glasses-free 3D TV display
Leadtek and partner Stream TV have launched new 8K Glasses-Free 3D products at Computex. At the exhibition, StreamTV's proprietary Seecube 3D technology delivers virtually no loss of brightness and resolution, while Seecube 3D technology enables instant conversion, instantly converting 2D or 3D images into Glasses-Free 3D effects, which is easy for consumers to use Seecube 3D technology to instantly convert all TV shows, Blu-Ray, photos, iPad, smart phones, Xbox, PS4 games, or even home videos, set-top boxes and more into stunning Glasses-Free 3D effects, meaning that consumers can fully enjoy the new viewing experience in glasses-free 3D without any restrictions on contents.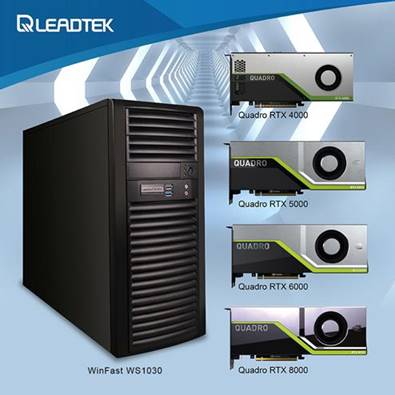 WinFast RTX data science and deep learning workstation
DIGITIMES' editorial team was not involved in the creation or production of this content. Companies looking to contribute commercial news or press releases are welcome to contact us.