ITRI to build bogie running tester for THSRC
Yihan Li, Taipei; Adam Hwang, DIGITIMES
Government-sponsored Industrial Technology Research Institute (ITRI) has disclosed its Mechanical and Mechatronics Research Laboratories (MMRL) will develop and establish a bogie running tester for Taiwan High Speed Rail Corp (THSRC).
Both sides have signed an agreement for the project, ITRI said.
Bogies are assembly of chassis and wheel axles of train carriages, including motors, shock absorbers, brakes and various sensors, ITRI said. Bogies bear the weight of trains, reduce vibration and help for trains' turning, and are therefore important to safety and stability of running trains and passengers' comfort, ITRI noted.
THSRC has 34 12-car trains, with each car equipped with two bogies. THSRC has bogies of each train under regular overhaul-based maintenance every time after the train has run for 600,000km. After such maintenance, bogies together with trains have to be tested on tracks and the testing should be undertaken in the time intervals not interfering with running of regular trains. Thus, such on-track testing is quite inconvenient.
The tester to be built allows bogies to be tested after maintenance at THSRC's depot in southern Taiwan, with stationary wheels running at speed of up to 320km/hour, rather than running on actual tracks, ITRI noted.
By adopting Industry 4.0-based prognosis technology and AI-based big data analysis, the tester can record vibration, hikes in temperature and other operating conditions of components of bogies, forming a database to detect abnormal operating conditions of such components for preventive maintenance, ITRI indicated.
MMRL will complete developing and set up the bogie running tester by year-end 2020, collect testing data in 2021 and put the tester into operation beginning January 2022, ITRI said.
A total of about NT$20 billion (US$644 million) a year is spent on maintaining high-speed, conventional and subway trains in Taiwan, and local contribution was only NT$8.6 billion in 2018, and the economics ministry hopes to gradually hike the share by local industries to NT$11.7 billion in 2026.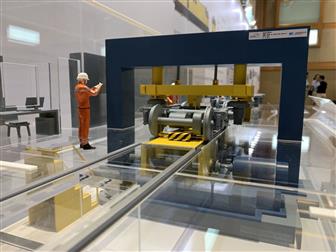 A physical model of a bogie running tester to be developed by ITRI
Photo: Yihan Li, Digitimes, July 2019