WeMo deploys over 3,000 rental electric scooters in Taipei area
Yihan Li, Taipei; Adam Hwang, DIGITIMES
Rental electric scooter service operator WeMo has deployed over 3,000 electric scooters in the Taipei metropolitan area, according to company founder Jeffrey Wu.
WeMo has registered about 200,000 members since operation began in October 2016, plans to increase the number of scooters for rent to 6,000 by year-end 2019, Wu said, adding currently, its scooters are used over 10,000 trips in total a day and a rental electric scooter records the highest daily turnover rate of 15 times, Wu noted.
WeMo has set up energy management centers in areas with concentration of users, with such centers responsible for charging batteries and replacing used batteries with recharged ones, Wu indicated. This exempts users from charging batteries or swapping batteries themselves and, based on WeMo's sample surveys, more than 85% of users are satisfied at such method of battery management, Wu said.
In order to avoid use of electric scooters with low levels of stored power, WeMo's operational management system can automatically preclude availability of rental scooters with low battery levels to prevent troubles for users, Wu indicated. WeMo's operational standard is to keep the proportion of all rental electric scooters for those with batteries' stored power higher than 30% of storage capacity at 75-80%, Wu noted.
The management system collects operating data on the scooters' operating conditions (locations and time of parking) to analyze hot time intervals and zones of parking, road conditions, and user behavior such as speeding up or slowing down, Wu said.
WeMo plans to use such data to combine rental scooter services with other daily life services, Wu indicated.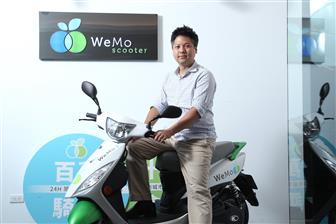 WeMo founder Jeffrey Wu
Photo: Shihmin Fu, Digitimes, August 2019