A theme park in central Taiwan has adopted four autonomous shuttle buses developed by Turing Drive, according to Turing CEO David Shen.
Two of the autonomous buses running in the 200-hectare Lihpao Resort are six meters long and the other two are four meters, said Shen, adding that each of them is equipped with four core systems - positioning, sensing, decision-making and control -in fusion, and the sensing system mainly consists of automotive cameras, radars and LiDARs.
Turing, for operation of the autonomous shuttle buses, adopts InVignal, a V2N (vehicle to network) platform developed by International Integrated Systems for sending traffic lights information to autonomous buses. The buses' running data are transferred to a platform of integrated information on operation of autonomous vehicles, with the platform jointly developed and established by Chunghwa Telecom and Wistron.
The platform has accumulated autonomous vehicles' operating data for 200 hours, according to Wistron.
The autonomous buses shuttle among Discovery World, Mala Bay (water-based), Sky Dream (the largest Ferris wheel in Taiwan), Escape Rooms, Lihpao Racing Park, Lihpao Outlet Mall and Fullon Hotel for 12 round trips a day.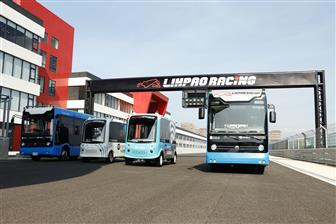 Autonomous shuttles buses at Lihpao Resort
Photo: Company