Applying medication on the skin is a common medical treatment that avoids making an injection into the body. However, transdermal drug delivery is very challenging as the drug must pass through many layers of skin. A team led by Ai-Ho Liao, professor, Graduate Institute of Biomedical Engineering, National Taiwan University of Science and Technology (NTUST), has engaged in the research of using microbubbles for transdermal drug delivery. It is also working with a team from the Ear, Nose and Throat Department of Tri-Service General Hospital, led by Professor Chih-Hung Wang, National Defense Medical Center, Taichung Armed Forces General Hospital, and a group of dermatologists from Tri-Service General Hospital and researchers from the Department and Graduate Institute of Biochemistry, National Defense Medical Center to apply the research results to therapeutic uses. Liao's team is in talks with leading medical and pharmaceutical supply firm Johnson & Johnson about a collaboration deal through assistance from the Taiwan Tech Global Research & Industry Alliance (Taiwan Tech GLORIA) project.
According to Liao, in clinical applications, microbubble contrast agents are injected intravenously to enhance the contrast of ultrasound imaging. Furthermore, different degrees of microbubble oscillation due to distinct acoustic fields can elicit various degrees of cavitation. Inertial cavitation can enhance the permeability in the surrounding tissues, increase vessel wall permeability, and promote drug entry from blood into cytosol or matrix, whereas stable cavitation can slightly increase tissue permeability without causing any harm.
Making use of ultrasound-induced microbubble cavitation, a group of Canadian researchers combined focused ultrasound (FUS) with intravenously injected microbubble contrast agents to successfully increase blood-brain barrier permeability and enable effective chemotherapy drug delivery to brain tumors in 2015. Liao's team converted the microbubble contrast agent for non-intravenous drug delivery using ultrasound combined with various devices.
Microbubbles can be encapsulated in albumin, lipid or polymer shells, said Liao. Her team explored the use of liquid or gel-type microbubbles at a specific concentration and diameter combined with wound dressing and microarray chips for ultrasound-mediated transdermal drug delivery by way of spreading or spraying on the skin. It enhances transdermal absorption of drugs or skin care ingredients and therefore can be used to raise the efficacy in drug delivery for treatment of hair loss, joint pain, surgical wound and inner-ear infections. Leveraging ultrasound energy, the general-purpose microbubble device Liao's team has developed can also promote the effects of skin care products. Ultrasound energy has been widely used in industrial and manufacturing applications, manifest in a wealth of different forms and devices. The combined use of non-injected microbubbles and ultrasound energy allows the cavitation effects to be controlled and increased, thus bringing enhanced benefits in application.
The NTUST team's microbubble composite medical material currently targets three main uses, including enhancing the transdermal delivery efficacy of medication or ingredients, building experimental models for inner-ear drug delivery and gene transfer, and studying the pharmacokinetics when administering microbubble-coated anti-cancer or chemotherapy drugs to a targeted diseased area so as to reduce dosage and adverse effects. In particular, the team is the world's first to use ultrasound-mediated microbubbles to facilitate the delivery of drugs to the inner ear and has won a National Innovation Award for its achievements.
Such achievements would not have been possible without full commitment but this also means they have very little time and resource for product promotion. That is the reason why Liao's team chose to participate in the Taiwan Tech GLORIA project in 2018. Through Taiwan Tech GLORIA's assistance, the team is able to increase visibility and was thus invited to a video conference with the US-based firm Johnson & Johnson in 2019 to discuss promotion for the team's technologies and products. Participation in Taiwan Tech GLORIA also enabled the team to exhibit its research results at Taiwan Healthcare+ and gain access to information and opportunities of overseas training for its members.
Taiwan Tech GLORIA's matchmaking efforts brought the NTUST Graduate Institute of Biomedical Engineering team's research achievements to light for the industry to see. Going forward, the team will keep strengthening its research work. Liao plans to establish a startup firm to commercialize the team's research results while expanding them to a more diverse range of applications.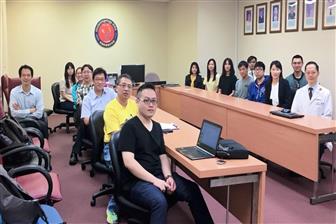 Ai-Ho Liao (third from right in right row) and Chih-Hung Wang (third from front in middle row), and their reseach team
Photo: Ai-Ho Liao