The coronavirus outbreak has disrupted production and weakened consumer confidence, with all ICT sectors bracing for major declines in shipments. Digitimes Research has conducted analyses on three mobile device sectors, namely notebooks, smartphones and tablets in the wake of the outbreak. The Special Report offers the latest updates about production statuses and shipments outlook for 2020 for each of the three sectors.
Abstract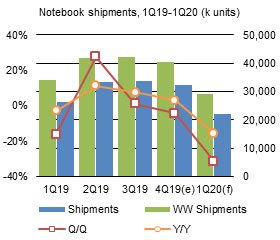 Global notebook unit shipments for the first quarter of 2020 are estimated to experience a sharp sequential fall of 29-36% than the 17% projected earlier, as severe labor and components shortages and stagnant logistics arising from the coronavirus outbreak are derailing the supply chain in China, which commands over 90% of global notebook production.
Global smartphone shipments are expected to slip below 1.3 billion units in 2020, including less than 200 million units of 5G models, taking into account the impacts of the outbreak on China and around the world in terms of economic growth.
Among IT product supply chains, the tablet sector has experienced less impact from the epidemic as most tablet factories had remained in production during the Lunar New Year holiday, while those located in regions less affected by the virus have begun resuming production since February 10. In general, the tablet sector is witnessing better capacity recovery than the notebook and smartphone sectors.
Table of contents
Price: NT$18,000 (approx. US$640)