Astra, a Taiwan-based startup specialized in commercializing facial recognition technology, began to cooperate with Japanese telecom carrier NTT East to provide cloud computing-based image streaming and subscription-based facial recognition services for small- to medium-size enterprises in Japan three years ago, and the cooperative business has since accumlated over 1,000 monthly paid users, according to company founder and CEO Gary Kao.
Facing increasing competition from mobile telecom carriers in the Japan market, NTT East teamed up with Astra to provide value-added services trying to maintain user basis and increase revenues, Kao said.
Most of NTT East's over two million enterprise users are small- to medium ones, including retail stores and restaurants, and they are target users of the collaborative efforts, Kao said.
As facial recognition services are expensive, Astra and NTT East provide such services on a subscription basis, with monthly rents being 1/200 of corresponding sales prices, Kao noted, adding that monthly payment coincides with telecom carriers' charging schemes and is affordable for target users.
Astra has developed a MSP (managed services provider) platform specifically for NTT East's management for service operation, including users' devices and processing of data, Kao indicated. Via the MSP platform, users of the facial recognition services can get information on customers' age, sex, the numbers of their recurring visits, and volumes of visitors, Kao said.
While facial recognition can help users learn more about their members and regular customers, most users hope to understand non-members and irregular customers for retargeting, and this is currently a bottleneck in application of facial recognition technology as well as a problem Astra strives to solve, Kao indicated.
Facebook and Google provide data on clicking and visiting rates but are unable to let retail stores know who have watched online advertising about their business, or how many customers and sales the online advertising has brought, Kao noted.
Astra compares customers detected via facial recognition with fan groups' user behavior and thereby finds highly loyal VIPs that visit stores and click "likes" in fan groups as well, Kao explained. For example, Astra had recognized visitors to a wine and spirits exhibition and compared them with the exhibition's fan group to screen out the overlapping persons, and later found they were frequent buyers with average annual spending of NT$200,000 (US$6,633) on wine & spirits each, Kao noted.
Astra, unlike online marketing's influence on retail stores (offline), compares offline information with online data and hopes that the approach can help clients find additional customers, Kao indicated.
Astra was runner-up in a startup contest held under CIAT (Cloud Computing & IoT Association Taiwan) Acceleration Program in November 2019.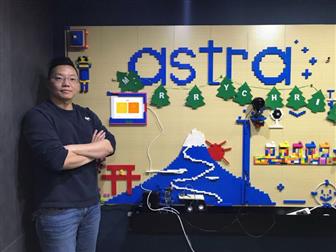 Astra founder and CEO Gary Kao
Photo: Company