Electric bus maker Tron-e Technology will begin to ship electric bus chassis to Indonesia at the end of May 2020 and then India after the country lifts lockdown restrictions, according to the company.
Tron-e said it has cooperated with electric bus dealers and/or assemblers in Indonesia, India, Malaysia, Thailand and Singapore to cope with local regulations concerning electric bus operations. It will first obtain certification for its electric buses in a client's market before the client places orders for models on demand, Tron-e noted.
Based on conditions of electric buses running in China, as temperatures rise by 10 degrees Celsius, service lives of battery packs will decrease by 50%, Tron-e indicated. To cope with high temperatures in Taiwan, Tron-e has developed battery packs with a liquid cooling system to prolong their service lives, Tron-e said, adding such battery packs can handle high-temperature environments in Southeast Asia.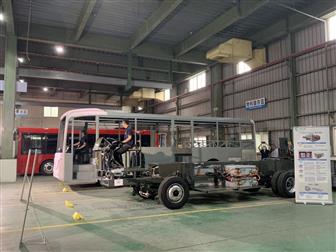 An electric bus chassis (front) made by Tron-e Technology
Photo: Company