MESOPHDIO breaking down the bottleneck of cancer cells recognition by artificial intelligence technology
Sponsored content
The changing landscape of digital medical imaging solutions is enabled by artificial intelligence (AI) technology. And the new challenges in the fast changing development of Bioinformatics, or called BioICT, are becoming one of the key driving forces to lead the way of future smart healthcare solutions. MESOPHDIO Laboratory is a new startup company targeting AI services for professors, doctors and Bio-tech companies to provide AI-powered applications or solutions.
Dealing with high resolution medical images is one of the major out-sourcing services provided by MESOPHDIO Lab. This service requires customized skills to do AI-based image processing. Once customers prepared data sets for AI model training, the rest of works will be handled by MESOPHDIO including digitized data gathering, tagging data and AI model training. It will bring great convenience to customers.
The founder of MESOPHDIO Lab. is Dr. Chun-Yen Lin, who is currently Adjunct Assistant Professor of Taipei Medical University and provided machine learning technology services and instrument development in the biomedical industry for years. All the data provided by customers, he could not disclose the data contents or project details. But the AI-powered medical imaging solutions are a booming and welcomed fields by research labs and academic institutes. Digital imaging is increasingly applied to image capture for microscopy.
The unique strength of MESOPHDIO is specialized digital imaging for microscopy. This is increasingly trends applied to high resolution medical imaging leveraging AI technology. The best selling points of MESOPHDIO's service is using SimCLRv2 to Train AI models for recognizing cancer cells. This approach is proposed to use semi-supervised learning algorithm and fit the practical use cases.
Contrastive Learning is the popular approach to formulate the task of finding similar and dissimilar medical imaging. Using this approach, one can train a machine learning model while making best use of a large amount of unlabeled data is unsupervised pre-training followed by supervised fine-tuning.
Taking the image files receiving from customer in these days, it is easily to get more than 6 gigabytes sized image data. This immense data will require high speed data transmission systems to transfer files. After applying image processing tools, this data could be used for Training a customized AI models. This process will need massive GPU compute power and huge memory for helping to perform the neural network training.
However, the huge compute power to perform these AI training tasks requires huge support from Taiwan Computing Cloud (TWCC) high performance computing services. MESOPHDIO enrolls the AI startup "TWCC STAR TREK" hosted by National Center for High-Performance Computing (NCHC), this project gets support to access TWCC platform to perform the AI Training. The entire AI training tasks are easily improved to see the huge time saving and strong compute power support for the project. The high speed service is impressive.
The next step of MESOPHDIO's development will be more focus on practical usages of AI technology. Practical artificial intelligence has made its way and into daily lives of everyone. And judging from the pace of activity in the startup community, it will only grow in its ability to help people to get things done. The future growth will need to be based on an increasingly engagement with customers. For this development strategy, MESOPHDIO will be in collaboration with hospitals and make MESOPHDIO's solutions used in the standard operation procedures in place for working on specific tasks.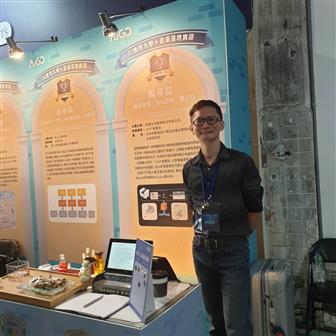 Dr. Chun-Yen Lin, founder of MESOPHDIO Lab.
DIGITIMES' editorial team was not involved in the creation or production of this content. Companies looking to contribute commercial news or press releases are welcome to contact us.