With the advent of the audio-visual era, whether for consumer use or commercial applications in retail, F&B or factory manufacturing, the demand for high image quality is ever-increasing. In recent years, moreover, breakthroughs in LED display technology have been rapidly and successively made, resulting in brightness, color gamut, and color contrast that are greatly superior to that of LCD displays.
Focusing exclusively on the high-quality, high-performance mini/micro-LED market, Yenrich Technology Corporation has recently launched ultra-fine pitch LED solutions ahead of market contenders. Through its advanced technology, comprehensive services and extensive product line, it will be able to reduce system operator development cost and shorten time-to-market, allowing it to grasp next-gen business opportunities with its highly competitive advantages.
The global market for large-size displays has been shifting since 2018 as LED screens that used to be installed outdoors began to move indoors, providing users with better display technology. In the past, indoor displays were mostly comprised of LCDs. Li-yuan Huang, VP of Sales and Marketing at Yenrich, nevertheless pointed out that LCDs designed with backlight architecture have certain limitations in terms of both color contrast and brightness. With regard to brightness, for instance, even though mini-LED light sources have become increasingly prevalent in backlight modules these past couple of years, the increased brightness - from 500 nits to 1000 nits - is still far from comparable with the 2000 nits of Yenrich's LED products. The lifetime, screen area and transportation convenience of LCD displays are moreover inferior to that of LED displays, therefore it is expected that mini-LED displays will dominate even in the market for high-end, large-size commercial displays.
Li-yuan Huang went on to say that although LEDs will be the mainstream in the market for indoor / large-size displays, this does not mean that the technology can be directly replicated and applied to this field. Due to the different viewing distances between outdoor and indoor scenarios, user's perception of display resolution also differs. At present, the pixel pitch of outdoor LED displays is 10mm-2.5mm, but if used indoors, an even smaller pitch must be adopted, usually between 1-2.5mm. The flip-chip RGB mini-LED die used by Yenrich enables the company to make ultra-fine pitch screens with pitch below 1mm.
Li-yuan Huang further indicated that under the demand for high-end audio-visual and digital transformation, boutique flagship stores, government agencies, and large enterprises have all begun to install LED screens in interior spaces for marketing advertisements or war room use. This trend has completely opened up the market for ultra-fine pitch LED displays, and garnered the interest of related industry peers. Most manufacturers, however, are currently still using conventional face-up LED dies to build their displays, a technology that can only achieve a minimum pitch of 0.8mm. In comparison, Yenrich's industry-leading four-in-one flip-chip RGB mini-LED package can achieve a pitch of 0.6mm or even smaller to further improve LED screen resolution.
Yenrich Technology Corporation, a member of Ennostar Group, utilizes flip-chip RGB mini-LED dies as an important weapon for achieving ultra-fine-pitch displays. The high-quality flip-chip dies are the achievement of years of development conducted by EPISTAR, another member of Ennostar Group. Ever since it was founded, Yenrich has been focusing on next-gen packaging and expanding its market share with the flip-chip dies developed by EPISTAR. As all relevant materials and technologies are now readied, the company has been receiving orders from several end-customers. Li-yuan Huang stated that, in addition to advanced mini-LED packaging technology, Yenrich is also committed to providing clients with various solutions. Currently, the company has established joint ventures with partners in mainland China to offer customers a variety of advanced mini-LED packaging services and solutions, including advanced mini-LED packaging production lines and SMT lines equipped with capacity of 800kk monthly. Customer products can enter mass production upon completion of design, greatly shortening time-to-market.
Even as it enhances its technology over production, Yenrich has also actively engaged in configuring its IP deployment. With confirmation in 2016 the company's mission is to produce high-brightness and high-tech displays, Yenrich has been continuously applying for patents for its research and development outcomes. At such, currently the company's ultra-fine pitch and advanced mini-LED packaging technology has been under patent protection in both the European and American markets. At this year's Touch Taiwan exhibition, Yenrich's new technological prowess will be unveiled. 0.46mm ultra-fine pitch products can be combined with 5G technology to make 8K resolution LED screens, stretching the limits of current LED technology. Another 0404 RGB LED package developed by Yenrich focuses on surface treatment technology, and is able to enhance visual uniformity while in off-state and correct color shift of the LED screen, creating a spectacular visual experience.
Li-yuan Huang explained that, since its establishment, Yenrich has been deeply committed to creating high-quality products with advanced technology. As past research and development has now yielded fruitful results, the company has been able to offer solutions that indisputably lead the market in terms of technology. Moving forward into the future, Yenrich will continue to uphold existing strategies, utilizing its advantages of advanced packaging technology and comprehensive production line to provide customers with the strongest and most reliable support.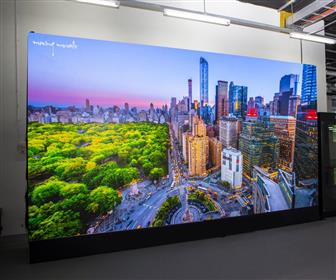 Yenrich Technology Corporation has launched ultra-fine pitch LED solutions ahead of market contenders
DIGITIMES' editorial team was not involved in the creation or production of this content. Companies looking to contribute commercial news or press releases are welcome to contact us.