As passenger expectations for hassle-free journey and increasing demands of more personalized and timely assistance continue to grow, the Intelligent Transportation Systems are now empowered with rich communications using Information and Communication Technologies (ICT) and 5G technologies. There are In-vehicle computer systems aiming to improve the quality of services by managing public resources and focusing on comfort, maintenance, and sustainability. Especially 5G of wireless mobile communication enables a new kind of communication network to connect everyone and everything.
Safety and security is priority number one for transportation operators. Various media formats such as conferencing, chat and video streams improve reaction and coordination in day-to-day operations. Adding recording capabilities supports investigations, enhancing the internal security process and providing a way to enhance real-time interaction with experts and gain efficiency.
Talking increase operational efficiency, to fully embrace the IoT solutions for capturing data and automating management tasks are trending. This allows to facilitate staff's job in a cost-effective way with the deployment of modern operation control center innovations. Plus, easily manage the mission-critical network and communications with only a small team through a single pane of glass using a cloud platform with AI integration.
On the other hand, 5G technology is also boosting global connected vehicle shipments rapidly. Taking European market as an example, there are expected to grow at a CAGR of 12% with a total of 69 million units to be added during 2020-2025, according to the latest research from Counterpoint's Smart Automotive service. While 5G network deployment maturing, the share of 5G connectivity will start increasing after 2022.
In-vehicle computer systems acting as mobile edge computing solutions will play an important roles with technology building blocks enabling smarter services in connected vehicle. To tackle in-vehicle public transport and commercial passenger communication networking platforms of the future, SINTRONES, focused on Intelligent Transportation solutions and in-vehicle computer technologies for industrial PC, automotive and enterprise markets, has expanded on a proven track record of delivering a variety of cutting-edge networking technologies incorporating high-performance processors to fulfill passenger's needs. Using the increased capabilities offered by 5G network adoption, SINTRONES solutions provide customers a number of benefits, including ruggedized solutions for demanding conditions, high availability, easily integrated in global transport subsystems and equipped with transport industry certifications of CE, FCC Class A, E13, EN50155, EN45545-2 (R25) safety standards.
To learn more about more SINTRONES product offerings for Intelligent Transportation, Connected Vehicles, Embedded Platforms and solutions with 5G aggregated systems on the road, please join the webinar of "A Leap Into the Future: Intelligent Transportation, Connected Vehicles and Embedded Platforms" or visit the registration web pages for more details at https://www.digitimes.com.tw/edm/EDM_SINTRONES_20210916.htm.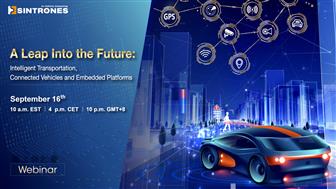 Build a comprehensive solution for intelligent transportation and commercial platforms for connected vehicles