783 news items tagged LED lighting
The scale of the global market for all LED lighting products will reach US$25.65 billion in 2015. And within this market, light tube and troffer/panel lights will make up US$3.44...

Packaged LED lighting revenues reached US$6.6 billion in 2014, with roughly 70% revenue generated from mid- to low-power LEDs, according to IHS.

EMS provider Lite-On Technology has become a supplier of automotive LED lighting, including headlights, tail lights, turn signals and in-car lamps, for US- and Europe-based automobile...

LED prices have declined to a point where this type of lighting is becoming the economical choice in almost every application. As such, the adoption of LED lighting is ramping up...

Taiwan-based LED lighting maker Laster Tech has become a major supplier of automotive LED lamp modules for Great Wall Motors, a major SUV and pickup truck maker in China, according...

LED epitaxial wafer and chip makers Epistar and Lextar Electronics have seen increasing orders from Europe- and US-based LED lighting vendors, with shipments beginning to significantly...

China-based firms exported LED lighting products totaling US$1.59 billion during January-February 2015, hiking 42.3% on year, according to research organization GGII.

The Taiwan government-sponsored Industrial Technology Research Institute (ITRI) will sign an MoU with the National Institute of Standards and Technology (NIST) under the US Department...

Demand for all types of lighting products in the Japan market in 2015 is estimated at a total value of JPY646 billion (US$5.39 billion) and LED lighting will account for 78.6% (penetration),...

China-based LED lighting makers recorded total export value of more than US$5 million for LED lamps used for growing plants during January-February 2015, according to China-based...

China-based LED packaging service provider MLS has extended production to own-brand LED lighting and began to sell LED light bulbs and tubes in the US market in 2014, and expects...

LED packaging service provider Unity Opto Technology has obtained orders for LED lighting products with shipments scheduled through June, with total orders exceeding its production...

Optical lens module maker Genius Electronic Optical has extended development and production to LED lighting and has offered LED fishing lights for Pacific saury fishing boats, according...

The 2015 Taiwan International Lighting Show and LED Taiwan both started today (March 25) in Taipei, with 337 exhibitors from 10 countries to use 898 booths, according to the government-sponsored...

Global LED lighting market value reached JPY1.7 trillion (US$48.7 billion) in 2014, accounting for 28.9% of total lighting value, and will increase to JPY5.5 trillion in 2020, with...

LED lighting markets in Europe, the US and Japan have gradually matured, and China is also entering a period of intense competition over pricing and scale. With the formation of the...

Tong Hsing Electronic Industries, which provides assembly and test services for niche ICs and produces ceramic substrates for the manufacture of LEDs, expects its capex for 2015 to...

The global LED lighting market value in 2015 is estimated at US$29.908 billion, increasing on year by 24.8% and accounting for 27.2% of the 2015 global market value for all lighting...

LED lighting vendor Top Hi-Tech and its partnering maker Nan Ya Photonics have obtained certification from Underwriters Laboratories (UL) for explosion-proof LED lighting products,...

Vertically-integrated LED firm Lextar Electronics expects the revenue proportion for LED lighting products in 2015 to rise to 30-40%, approximately double the level in 2014, according...

LED packaging service provider Everlight Electronics, in view of the high risk of inventory value depreciation due to quick changes in LED lighting prices, will gradually shift the...

Demand for smart LED lighting solutions, LED lights controlled by smartphones or tablets through wireless Internet connections, will see a rapid growth in demand in three to four...

Taiwan-based SMD LED packaging service provider Advanced Optoelectronics Technology (AOT) will actively promote sales of SMD LED packaging for lighting applications and expects the...

Everlight Electronics aims to turn its LED lighting business from losses to profits in 2015 with an on-year growth of 50% in revenues, according to the company.

Global market demand for LED lighting in 2015 is valued at US$29.90 billion, consisting of US$5.750 billion for Europe, US$5.624 billion for the US, US$5.078 billion for Japan, US$4.568...
Related photos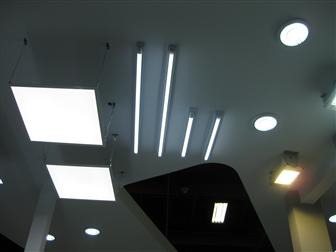 Everlight LED ceiling lights
Photo: Jackie Chang, DIGITIMES, Friday 6 September 2013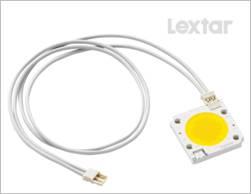 Lextar to debut latest plug-in COB
Photo: Company, Tuesday 4 June 2013
2013 Taiwan International Lighting Show: Edison Opto's cafe booth
Photo: Jackie Chang, DIGITIMES, Monday 8 April 2013
Related news around the web