634 news items tagged forecast
Worldwide spending on public cloud services and infrastructure is forecast to reach US$266 billion in 2021, according to the latest update to the IDC Worldwide Semiannual Public Cloud...

Sales of both DRAM and NAND are expected to set record highs in 2017, according to IC Insights. In both cases, the strong annual upturn in sales is being driven almost entirely by...

Recognized gains from the sale of Micron Technology shares boosted net profits at Taiwan-based Nanya Technology, which surged 96.9% sequentially to NT$6.45 billion (US$212.4 million)...

Worldwide IT spending is projected to total US$3.5 trillion in 2017, a 2.4% increase from 2016, according to Gartner. This growth rate is up from the previous quarter's forecast of...

Worldwide shipments of traditional PCs (desktop, notebook, workstation) totaled 60.5 million units in the second quarter of 2017, posting an on-year decline of 3.3%, according to...

The global electronic systems market will grow only 2% to US$1,493 billion in 2017, while the worldwide semiconductor market is expected to surge by 15% to US$419.1 billion, according...

Taiwan Semiconductor Manufacturing Company (TSMC) expects sales generated from 10nm process technology to account for 10% of its overall revenues for 2017.

Taiwan-based IC backend houses, particularly those engaged in the supply chain for Apple's upcoming iPhones, are expected to see their revenues start peaking for 2017 in August or...

Worldwide semiconductor revenues are forecast to total US$401.4 billion in 2017, an increase of 16.8% from 2016, according to Gartner. This will be the first time semiconductor revenues...

Worldwide sales of new semiconductor manufacturing equipment are projected to increase 19.8% to total US$49.4 billion in 2017, marking the first time that the semiconductor equipment...

Semiconductor Manufacturing International (SMIC) has landed more orders for NOR flash chips from GigaDevice Semiconductor and increased output, according to industry sources. On the...

A new update to the IDC Worldwide Semiannual Commercial Robotics Spending Guide forecasts worldwide purchases of robotics, including drones and robotics-related hardware, software...

Samsung Electronics has provided its earnings guidance for the second quarter of 2017, estimating record operating profits of about KRW14 trillion (US$12 billion) on consolidated...

As AMOLED displays quickly displace LCDs in smartphones, panel makers are rapidly adding new production capacity accelerating demand for fine metal masks (FMM), a critical production...

A Taiwan-based DRAM foundry owned by Micron Technology, which was formerly Inotera Memories, recently scrapped half of the wafers produced at its 12-inch fab due to problems associated...

Micron Technology has announced revenues for its third quarter of fiscal 2017 climbed to a record US$5.57 billion, 20% higher compared to the second quarter and 92% higher compared...

CMOS image sensor sales are on pace to reach a seventh straight record high in 2017, and nothing ahead should stop this semiconductor product category from breaking more annual records...

Advanced Semiconductor Engineering (ASE), the world's largest outsourced semiconductor assembly and test (OSAT) company, will see its 2017 sales growth outperform the global...

The ASP of DRAM chips is forecast to rise 5% sequentially in the third quarter of 2017, as supply remains tight, according to DRAMeXchange.

Taiwan-based IC design houses have seen customer orders pick up on seasonality with some expected to post sequential revenue growth of 10% or more in the third quarter, according...

The ongoing slump in shipments of standard PCs along with the drop-off in tablets are setting the stage for handset IC sales to finally surpass IC revenues in total personal computing...

SEMI has predicted record spending for fab construction and fab equipment in 2017 and 2018. Korea, Taiwan and China will all see large investments, and spending in Europe will also...

IC materials distributor Topco Scientific is expected to see its revenues peak for 2017 in the third quarter driven by robust demand for silicon wafers and photoresist solutions,...

Taiwan-based GEM Services, a backend house focusing exclusively on the power management semiconductor market, is forecast to post single-digit revenue growth in 2017 driven by strong...

Taiwan-based pure-play foundries Taiwan Semiconductor Manufacturing Company (TSMC), United Microelectronics (UMC) and Vanguard International Semiconductor (VIS) have reported sequential...
Related photos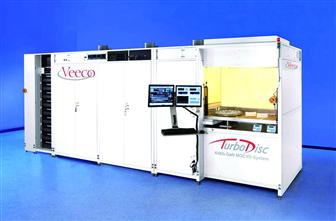 Veeco TurboDisc K465i GaN MOCVD system
Photo: Company, Thursday 21 January 2010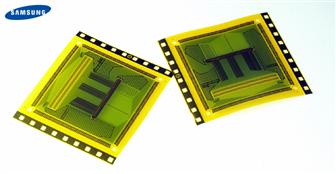 Samsung mobile display driver IC
Photo: Company, Wednesday 30 September 2009
Related news around the web