500 news items tagged iPad
Apple is redesigning chargers and related interface for its next-generation iPhone and iPad devices, and will likely have its 2019 series of iPhones come with USB Type-C support,...

Flexible PCB specialist Career Technology swung to net profit of NT$33.95 million (US$1.14 million) in the first quarter of 2018 from loss of NT$85.29 million a year earlier. EPS...

Apple has updated its 9.7-inch iPad with support for Apple Pencil plus increased performance, starting at US$329. The new 9.7-inch iPad and Apple Pencil give users the ability to...

Apple is preparing to release a new entry-level MacBook at the end of the second quarter with a price tag expected to be about the same level as that of the existing MacBook Air or...

Notebook ODMs including Compal Electronics and Inventec saw better-than-expected shipments in the fourth quarter of 2017, but volumes in the first quarter of 2018 are expected to...

Chassis maker Casetek Holdings, a subsidiary of Pegatron Technology, has announced a plan to issue 80 million new shares at NT$92 (US$3.05) per unit to raise NT$7.36 billion in tot...

Taiwan-based notebook ODMs have announced their November shipments with Quanta Computer shipping 3.9 million units, up from 3.5 million in October. Quanta's notebook shipments reached...

Apple is considering a new inexpensive 9.7-inch iPad priced at around US$259 for 2018, according to sources from related upstream suppliers, which added that the device should be...

Speculation circulated recently in the chipmaking industry that Taiwan Semiconductor Manufacturing Company (TSMC) is gearing up for 7nm chip production for Apple's in-house designed...

The global tablet market is set for a rebound in 2018 as major IT players including Amazon, Huawei, Microsoft and Google all plan to launch new models in the coming year, while sales...

Global shipments of tablets are estimated to grow 7.8% sequentially to 45.58 million units in the fourth quarter of 2017 due mainly to brisk market demand for entry-level branded...

Unitech Printed Circuit Board president Hsu Cheng-hung has stepped down to take responsibility of a fatal accident that occurred at its Yilan plant in June 2017, according to the...

With volume production for its Kirin 970-series chips kicking off, HiSilicon Technologies has become one of Taiwan Semiconductor Manufacturing Company's (TSMC) top-5 customers, according...

Taiwan Semiconductor Manufacturing Company (TSMC) will enter volume production of chips built using its 12nm FinFET process in the fourth quarter of 2017, according to a recent Chinese-language...

Worldwide slate-type tablet demand is expected to continue weakening in the second half of 2017 and impact related shipments, according to sources from the upstream supply chain.

Apple has introduced a new 10.5-inch iPad Pro and a new 12.9-inch iPad Pro, featuring displays with ProMotion technology and the new A10X Fusion chip. The new 10.5-inch model reduces...

The upstream supply chain's shipments for Apple's new 10.5-inch iPad Pro have been increasing recently and the device's monthly shipment volume is expected to grow to 600,000 units...

Apple's new inexpensive 9.7-inch iPad is expected to increase the device manufacturer Compal Electronics' smart handheld device shipments by 50% sequentially in the second quarter,...

Apple has updated its 9.7-inch iPad, featuring a brighter Retina display with over 3.1 million pixels. The device is enclosed in an aluminum unibody enclosure weighing one pound,...

Apple has moved ahead the production for its planned new 10.5-inch iPad to March instead of an earlier timetable set for May-June and is expected to unveil the new iPad at a product...

First-quarter 2017 results of Taiwan-based makers in the iPad supply chain, notably touch panel makers TPK Holding and General Interface Solution (GIS), are hanging in the balance,...

Apple reportedly is planning three new tablets for 2017, a 9.7-inch iPad with a friendly price range, a 10.5-inch iPad, and an upgraded 12.9-inch iPad Pro. The products are still...

Chip demand for Apple's iPad devices has been slow according to supply-chain sources. Shipments of the iPad-series for 2016 could reach just 40 million units or even below the mark,...

Apple, in addition to existing 7.9-inch iPad mini, 9.7-inch iPad and 12.9-inch iPad Pro, will launch 10.5-inch iPad in 2017, with production to begin in December, according to Taiwan-based...

A decline in sales of iPhone, iPad and iMac products has resulted in the first decline in annual revenues for Apple in 16 years in fiscal 2016. Apple saw its revenues drop to US$217...
Related photos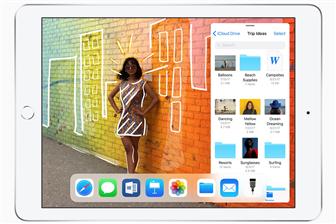 Apple 9.7-inch iPad (2018)
Photo: Company, Friday 30 March 2018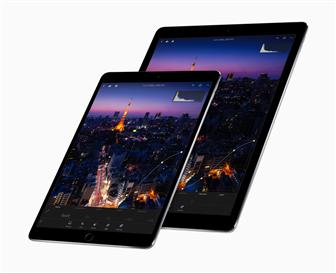 Apple 10.5-inch and 12.9-inch iPad Pro tablets
Photo: Company, Monday 12 June 2017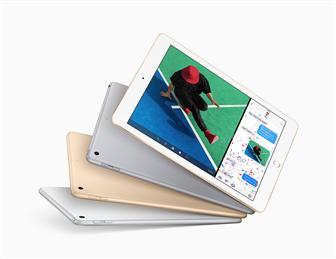 Apple inexpensive 9.7-inch iPad
Photo: Company, Wednesday 22 March 2017
Related news around the web