Taiwan market: Acer launches dual-core notebook; contribution from dual-core sales to rise
Ruby Huang, Taipei; Jessie Shen, DIGITIMES
Acer on May 4 launched a white-colored dual-core notebook in Taiwan, the TravelMate 3020, which features the Intel Core Duo processor and a 12.1-inch TFT LCD display with wide XGA (WXGA) resolutions, with a suggested retail price of NT$55,900 (NT$1,766).
In addition to the Acer TravelMate 3020, other available white models in the Taiwan market also include the Compaq Presario B2800 from Hewlett-Packard (HP), the W6A from Asustek Computer, Sony's VAIO FE590 series and the Joybook S53W from BenQ. Notebooks with a white chassis and a slim profile specifically target female consumers.
Scott Lin, president of Acer's Taiwan and Hong Kong operations, stated that among Acer's total sales of dual-core notebooks in the second quarter, the contribution from 12.1-inch models will increase with monthly sales climbing to 5,000 units from 3,000 units in the first quarter.
According to Lin, sales of dual-core notebooks will account for 34% of Acer's overall notebook sales in Taiwan in the second quarter of 2006, rising from 13% the previous quarter. The contribution will further increase to 50% in the third quarter and 70% in the fourth quarter, said Lin.
Acer's sub-NT$20,000 offerings for Sonoma notebooks shook the Taiwan notebook market in the third quarter of 2005 but Lin indicated that prices of Acer's dual-core models will not see such significant reductions this year. Price cuts for dual-core notebooks will depend on price cuts by Intel, Lin said.
The Chinese-language Apple Daily reported today that Intel's price-cutting schedule will go into effect on May 14, a week in advance of the original planned date. Xbitlabs.com, however, has reported that Intel already has released new prices for its CPUs.
Acer's notebook sales in Taiwan topped 51,000 units in the first quarter of 2006, up almost 40% from 37,000 units during the same period of 2005. With rival Asustek Computer, the two companies grabbed a 53.1% share of the Taiwan notebook market in the first quarter.
Acer TravelMate 3020 specifications

Item

Detail

CPU

Intel Core Duo T2300/ T2400/ T2500/ T2600

Clock speed

1.66/ 1.83/ 2.16GHz (2MB L2 Cache)

FSB

667MHz

Chipset

Intel 945GM/PM Express

Network

Intel PRO/ Wireless 3945ABG

Display

12.1-inch WXGA TFT

Memory

DDR2 533/667MHz (up to 2GB), two SODIMM extension slots (upgradable to 4GB)

HDD

80/100/120GB SATA

Built-in camera

1.3-megaxel, 225-degree rotating

Dimension

297.5×210×2 4.5/32.4mm

Weight

1.5kg (3.3lbs)

Retail price (Taiwan)

NT$55,900

Photo
Source: Company, compiled by DigiTimes, May 2006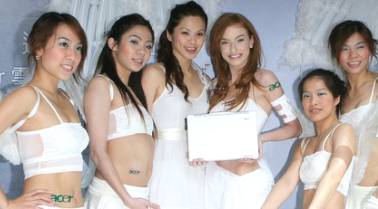 The Acer TravelMate 3020
Photo: Andrea Liu, DigiTimes