Apple unveils Core 2 Duo MacBooks
Press release, November 9; Eric Mah, DIGITIMES
Apple Computer unveiled its new line of MacBook consumer notebooks that now include Intel Core 2 Duo processors. Just one-inch thin, the new MacBooks are up to 25% faster than the previous generation and feature a built-in iSight video camera for on-the-go video conferencing and Apple's MagSafe Power Adapter that safely disconnects when under strain, according to Apple.
The new MacBook lineup includes three models: sleek white 1.83 GHz and 2.0 GHz MacBook models, and a black 2.0 GHz MacBook model. With Intel's latest Core 2 Duo processors, the new MacBook is up to 25% faster than the previous MacBook and up to six times faster than the iBook, said Apple. Consumers will also benefit from the added power in the new 2.0 GHz models, including double the memory and greater storage capacity than the previous generation, as well as a double-layer SuperDrive for burning professional-quality DVDs.
The new MacBook features a 13-inch glossy widescreen display and at just one inches thin, includes a built-in iSight video camera for video conferencing or chatting with friends or family using iChat AV, according to Apple.
The MacBook includes Apple's MagSafe Power Adapter that magnetically connects the power cord to the MacBook and safely disconnects under strain, preventing the notebook from falling off its work surface. Apple now also offers a new MagSafe Airline Adapter that makes using a MacBook on an airplane even more convenient by connecting to in-seat power ports for continued productivity throughout the duration of a flight, said Apple. The MacBook also includes Apple's Sudden Motion Sensor, designed to protect the hard drive in case of a fall, and a simple and intuitive Scrolling TrackPad for scrolling through long web pages or panning across large photographs.
The MacBook comes with iLife '06, the next generation of Apple's suite of digital lifestyle applications featuring iPhoto, iMovie HD, iDVD, GarageBand and iWeb. The MacBook also comes with the latest release of the Mac OS X version 10.4.8 Tiger, including Safari, Mail, iCal, iChat AV, Front Row and Photo Booth, running natively on the Intel-based notebook.
The new MacBook is available immediately through the Apple Store (www.apple.com ), Apple's retail stores and Apple Authorized Resellers. The Apple MagSafe Airline Adapter is available for a suggested retail price of US$59 (US).
New Apple MacBook specifications

Item

1.83 GHz, 13-inch white

2.0 GHz, 13-inch white

2.0 GHz, 13-inch black

Screen

13.3-inch glossy widescreen 1280×800 display with 250 cd/m2 brightness

Processor

1.83 GHz Intel Core 2 Duo processor

2.0 GHz Intel Core 2 Duo processor

2.0GHz Intel Core 2 Duo processor

Front-side bus

667 MHz

667 MHz

667 MHz

Memory

512MB of 667 MHz DDR2 SDRAM, expandable to 2GB

1GB of 667 MHz DDR2 SDRAM, expandable to 2GB

1GB of 667 MHz DDR2 SDRAM, expandable to 2GB

Hard drive

60GB Serial ATA hard drive running at 5400 rpm, with Sudden Motion Sensor

80GB Serial ATA hard drive running at 5400 rpm, with Sudden Motion Sensor

120GB Serial ATA hard drive running at 5400 rpm, with Sudden Motion Sensor

Optical drive

Slot-load Combo (DVD-ROM/CD-RW) optical drive

Slot-load 6x SuperDrive with double-layer support (DVD+R DL/DVD±RW/CD-RW) optical drive

Slot-load 6x SuperDrive with double-layer support (DVD+R DL/DVD±RW/CD-RW) optical drive

Graphics

Intel Graphics Media Accelerator 950

Video

Mini-DVI out (adapters for DVI, VGA and Composite/S-Video sold separately)

Webcam

Built-in iSight video camera

Ethernet

Gigabit Ethernet port

Connectivity

Built-in AirPort Extreme wireless networking and Bluetooth 2.0+EDR

Ports

Two USB 2.0 ports and one FireWire 400 port

Audio

One audio line in and one audio line out port, each supporting both optical digital and analog

Misc

Scrolling TrackPad, infrared Apple Remote, 60 Watt MagSafe Power Adapter

Suggested retail price (US$)

1,099

1,299

1,499
Source: Apple, compiled by DigiTimes.com, November 2006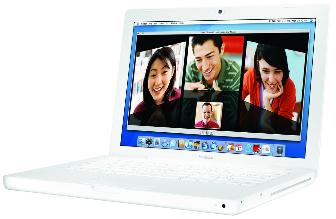 Apple's white Core 2 Duo MacBook
Source: Company