Lanner announces 12-bay RAID SAS storage appliance
Press release, February 27; Ricky Morris, DIGITIMES
Wednesday 27 February 2008
Lanner Electronics has announced the RS12-38700 storage appliance, a 45nm Quad-Core Intel Xeon processor-based enterprise-class storage appliance for network centric service applications such as WAN acceleration, security information and event management, triple play, cache server and unified communications.

Built around the Intel 5000P chipset, the RS12-38700 supports two Quad-Core Intel Xeon Processor 5400-series CPUs, eight FB-DIMMs, and two PCI Express networking modules. A dedicated onboard Vitesse RAID controller supports 12 hot-swappable SAS/SATA hard drives with RAID 0, 1, 10 and 5 data protection, while a 2.5Gbps Cavium encryption engine offloads Layer 4 processing to reduce CPU load and deliver more efficient system performance.
The RS12-38700 also supports two network modules and up to eight Gigabit fiber or copper ports. Customers can choose from a range of fiber, fiber by-pass, or GbE RJ45 modules, to create a storage appliance with the right mix of networking interfaces, highlighted the company.
Careful material selection and proper use of damping technology addresses shock issues from the outset. The RS12-38700 meets the stringent requirements needed to eliminate harmonic vibration. Addressing mechanical and electronic issues in the early stages of the design process, the Lanner RS12-38700 offers what generic storage products cannot: a superior solution to the growing problem of data storage, retention and redundancy, claimed the company.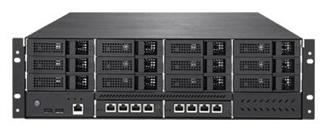 Lanner RS12-38700 12-bay RAID SAS storage appliance
Photo: Company