PTC to show new lighting solutions at Guangzhou International Lighting Exhibition
Press release, May 11; Yvonne Yu, DIGITIMES
Wednesday 12 May 2010
PTC's latest green power lighting solution ICs will be shown on June 9-12, 2010 at the Guangzhou International Lighting Exhibition-China Import and Export Fair in the Pazhou Complex. The demonstration will include High Power LED Driver ICs (PT69XX series) and 650V multi-function electronic ballast driver ICs (PT56XX series).
PTC has developed the PT6905 and PT6910 high power LED driver ICs for low voltage LED lighting applications such as decorative and emergency lighting. Both ICs integrate a 40V/1.2Amp MOS switch, provide protection functions, include an integrated heatsink, and are housed in a small size package (SOT89). With the PT6905's built-in three-stage dimming control, the normal switch dimming function can be realized.
For high voltage LED lighting applications such as home and office lighting, PTC's PT6907, PT6909, and PT6911 ICs feature low start-up current and low stand-by power dissipation. The PT6907 integrates a linear dimming controller function with normal switch ON/OFF. The integrated DAC is suitable for synchronous application and offers more flexibility for group control. The PT6909 integrates a single-stage PFC boost-buck topology which brings a normal LED driver circuit's PF up to 0.9. The PT6911 operates in hysteretic PFM control mode. This architecture enables high accuracy LED current control without the need for high-side current sensing or the inclusion of any closed-loop controllers. Its hysteretic control method can achieve both good line regulation and load regulation. In addition, the PT6911 provides a soft-start feature.
Electronic Ballast Driver ICs including the Dimming Controller series and the Ballast series will also be demonstrated at the show. The Dimming Controller ICs (PT5621 and PT5622) are reliable and easy to use. They are suitable for various types of dimming applications such as remote, VR, 3-way switching, normal switching, and normal switching with linear dimming. The Ballast IC series (PT5612 and PT5615) are integrated with more functions including security protection, APFC, 650V half-bridge high-side driver, and support for multi-lamp application.
PTC is looking forward to your visit to Hall 7.1, Booth No. A8.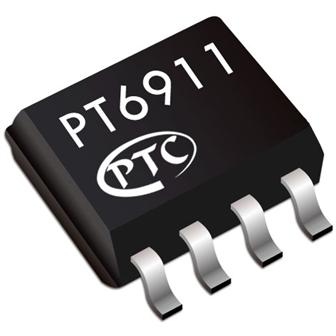 PTC high power LED driver IC - PT6911
Photo: Company