Computex 2010: MSI gets serious about goal to become top-10 global notebook brand by 2011
Press release, staff reporter, DIGITIMES, Taipei
Thursday 3 June 2010
Established 23 years ago, MSI has become a leader in the global motherboard and graphics cards market, producing both OEM and own-brand products. The company has also accumulated experience in product innovation, design, and R&D in notebooks and now aims to become one of the world's top-10 notebook brands by 2011.
Company CEO and president Joseph Hsu stated MSI will not be outdone in terms of product innovation, stylish design, quality, and multimedia performance in the mobile market. MSI apparently aims to back up such claims at Computex Taipei 2010. At its booth (L607 in the TWTC Nangang Exhibition Hall), MSI will be showcasing 30-plus mobile PCs in six major market categories.
MSI will be showcasing notebook designed for style (F series), multimedia (G series), slim and light features (Wind U and X-Slim series) and tablets (MSI Slatebook).
Hsu indicated that over the past few years MSI has shown its leadership in the notebook market and has been developing its brand. The company was the first in the world to unveil the 10-inch Wind U series in 2008, and the first in 2009 to roll out the light X-Slim equipped with a ULV core, Hu explained. Such innovation has allowed MSI's brand to shine on the global notebook market and MSI is now among the Top-10 brands in some 30 countries and it expects to soon become a top-10 brand worldwide.
This year, MSI's innovative energy in terms of product development and design has gone into overdrive, and the company's full lineup at Computex attests to that.
Style: F and G series
The all-new F series consists of five models, with MSI calling their design unpretentious yet sophisticated, The FX400, FX600, FX700, and FR600 are equipped with Intel Core i5 processors with Intel Turbo Boost and Hyper-Threading technologies, while the FX610 is based on AMD's new Danube Champlian platform based on 45nm technology featuring power consumption of only 25W.
Models with discrete graphics in the F series all come equipped with Nvidia GeForce GT 325M graphics and 1GB GDDR3 of display memory. This is coupled with MSI's own GPU Boost technology that can greatly reduce power consumption by automatically switching the graphics modes between discrete and integrated, based on the muscle needed by the application.
The notebooks range in size from 14-inches to 17-inches. In addition, MSI is touting the audio quality of the notebooks, as the F series feature audio system designs based on technology from industry experts Dynaudio and THX.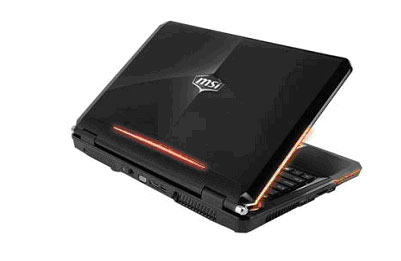 MSI GT660
Photo: Company
MSI F Series
Photo: Company
Classic: C & P series
Representing the company's classic lineup, the minimalist C series features seven models (CX410, CX420, CR420, CX620, CX623, CR630, and CX720), ranging in size from 14-inches to 17-inches. All models run on Intel Core processors and are coated in MSI's own Color Film Print technology and feature a chiclet keyboard.
The newest business model, the P600, incorporates a high definition, power saving, LED backlit display, an embedded super thin DVD Super-Multi CD-ROM drive, and the latest Intel Core i5 processor. The device has fingerprint reader for data security, weighs 2.41kg and comes with MSI's exclusive ECO Engine power saving technology which can stretch battery life to as much as eight hours per charge.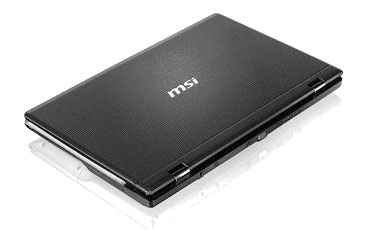 MSI CX623
Photo: Company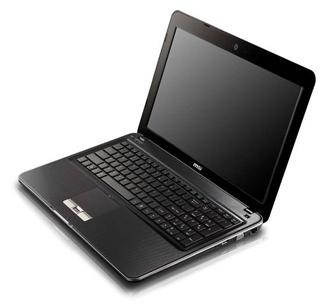 MSI P600
Photo: Company
Wind Series
MSI has updated its well-known Wind series with ten slender, power-efficient featherweights. MSI is showcasing the 10-inch Wind U160, U140, and U135 as well as the 12.1-inch U250 and U200. The Wind U160, U140, and U135 are built around the Intel Pine Trail platform
The U160 boasts over 15 hours of battery power per charge and an eye-catching new case, which recently won Germany's iF Product Design Award for 2010. The netbook is less than one-inch thin and tips the scales at only 1kg. The industrial design features an on/off switch that comes in the form of a round knob at one end of the notebooks hinge
The Wind U135 and U140 are designed to meet the needs of on-the-go city dwellers and support WiMAX options. The systems come in a variety of Color Film Print coatings and are equipped with Windows 7.
The Wind U250 and U200 are equipped with a comfortably sized 12.1-inch wide-screen 16:9 display and weigh only 1.3kg. The U200 features Intel ULV processor support and delivers more than three times the per-charge battery time of conventional notebooks, according to MSI. The U250 comes with Color Film Print and is built around the AMD Nile platform. It also comes with MSI's own Energy Star-certified power-saving design, offering more over twice the battery life of conventional laptops.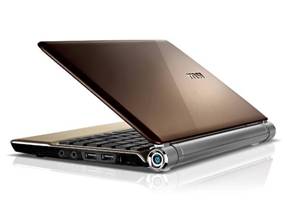 MSI Wind U160
Photo: Company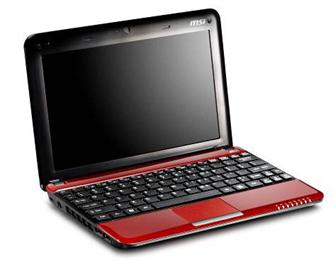 MSI Wind U135
Photo: Company
X-Slim series
MSI is also showcasing its X-Slim series of notebooks at Computex. MSI marketing director Sam Chern explained that the X-Slim series targets active individuals who want slim, light notebooks, but who do not want to sacrifice on screen size.
The X-Slim series includes the 13-inch X340 (which just received the Taiwan Excellence Award), the X350, and X360, the 14-inch X420, and the 16-inch (and recipient of Germany's iF Product Design Award) X620. The entire series of X-Slim notebooks feature a diamond pattern exterior for added texture, the dual-core CPUs, and HD displays
The X-Slim X340, X350 and X360 weigh in at only 1.4kg, and feature the Intel Core i5 processor, Turbo Boost and Hyper-Threading technology and are supported by the HM55 chipset for superior multimedia and processing performance.
The ultra slim X420 is MSI's newest 14-inch super slim notebook, the X420 features the ATI Mobility Radeon HD 5430 discrete graphics card with 1GB DDR3 of display memory and Intel's super low-voltage Core 2 Duo processor.
MSI's GPU Boost technology gives the X420 superior display and processing performance as well as up to nine hours of battery time. The X420 has an overall thickness of less than one inch and weighs only 1.88kg.
The X620 paved the way for the development of MSI's brand new X-Slim series. The 15.6-inch screen comes with an internal DVD Super-Multi CD-ROM player and ATI Mobility Radeon HD 5430 discrete graphics (1GB DDR3 VRAM) and runs on an Intel Core 2 Duo super low-voltage CPU. Coupled with MSI's exclusive ECO Engine power saving technology and GPU Boost technology, the X620's battery life has overcome limitations seen by other large-screen discrete models, and delivers up to 11 hours of use on one charge.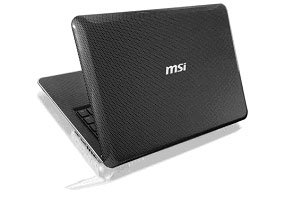 X-Slim X360
Photo: Company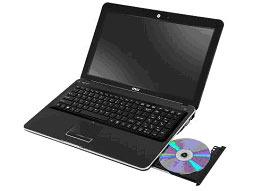 X-Slim X620
Photo: Company
WiMAX and Slates
To meet the world's 4G mobile telecommunications needs, MSI said it has pulled no stops in developing and producing WiMAX notebooks. A number of its new 10- to 15.6-inch models support WiMAX. Related systems are already available for purchase in ten countries on four continents, including in the US and Japan. MSI will be displaying all its newest models in the WiMAX area at Computex 2010.
MSI exhibited its dual-screen e-book readers and Slatebook tablet PC at CES and CeBIT earlier this year and MSI will be rolling out a new concept product for Computex, its 10-inch Slatebook. The Slatebook features Intel's latest power-saving CPU platform, eight hours of battery power, and multi-touch control for Windows 7. It tips the scales at a mere 800 grams, comes with 3G and Wi-Fi support, as well as USB and HDMI ports.
MSI Slatebook
Photo: Company