DTF Taiwan LED Supply Chain Technology Forum: Technology trend for commercializing LED lighting
DIGITIMES staff, Taipei
Monday 18 October 2010
Epistar was one of the pioneers that worked together with Samsung to apply LEDs in mobile phones. It is eager to expand its share in lighting market. The company's vice president, Carson MH Hsieh, gave an in-depth analysis on the trend of LED lighting, and he also discussed issues concerning LED lighting's commercialization and breakthroughs.
LED lighting is the trend, but technical problems need to be overcome
ETP pointed out in 2008 that if global carbon emissions have to be lowered from 62 billion tons to 14 billion tons in 2050(BLUE Map scenario). To eliminate 48 billion tons of emissions, the key point would be to improve the energy efficiency at the end-user side, which would account for 47% of the emission reduction target. Supply of renewable energy would come in second, accounting for 21%. LED lighting approaches the issue at the end-user side in line with the low-carbon economy trend.
How efficient is LED lighting? In terms of luminous efficacy, incandescent and halogen devices are around 20-30 lm/W; energy-efficient light bulbs are about 70 lm/W; and HID lamps can go up to 100 lm/W; and fluorescent lights luminous efficacy has slightly improved to 120 lm/W. Although the luminous efficacy of LED and OLED lights remain at 80 lm/W and less than 30 lm/W respectively in 2010, they are improving quickly and within a few years time, LED lighting is expected to surpass conventional lighting in luminous efficacy. In lab development, we have seen luminous efficacy of LED lighting approaching 200 lm/W.
Fiber to the home (FTTH) was once the talk of the town in 2000, promising opportunities for the optical communications industry. But wireless communications came along and quickly replaced FTTH, and shortly after the optical communications industry lost its momentum. We believe LED lighting is repeating wireless communications' history and will soon become the lighting for the new generation.
As incandescent bulbs produce light through heat, which increases the temperature of the surrounding environment, they are not very ideal for lighting. For 20-40W lighting devices, LED has gained momentum in the market. As for 60W lighting devices, the heat issue needs to be solved first, and on top of that, LED glare remains an issue.
As for lighting devices' product life, it may not need to be very long. If a product can last for 10 years or more without the need to be replaced, it would mean an end to the industry. Luminous efficacy in lm/W may not mean much to the consumers, as what really is more important is lm/$. This is the key issue, and we are aiming at 800-1,000 lm/$ to begin with. In addition, the current design for multiple light sources is very different from traditional ones. We may have to concentrate multiple light sources into one. If it is a design of lights emitting in all directions, the qualities of light - including color rendering, color temperature, lumen and the type of light - must be at least as good as traditional ones or similar to them. In practice, energy savings must be translated into money savings in 1.5 years, but there are technical hurdles to overcome.
GE has recently closed its last major factory making incandescent light bulbs in the United States, a victim of a 2007 law banning sales of such light bulbs by 2014, because conventional incandescent light bulbs cannot meet the energy efficiency requirements. Furthermore, Philips also said that LED is becoming the main growing engine for lighting industry. It estimated that the market penetration rate will be more than 50% in terms of revenues in 2015. The pioneer Japanese market has already reached 50%.
Technology trend for commercializing LED lighting
There is no doubt that LED lighting is the future, but making LED lighting devices can be difficult, because there is no universal standard and technology is still being developed. Moreover, the optical communications industry and LED lighting industry are two different sectors, and it takes time and effort to put them together. For example, in the world of lighting, family run businesses are common and usually passed down from one generation to the next, and the proportion of in-house production is high. It is an eco-system with many "local kings" who are still reluctant to enter the LED lighting market, or have invested minor sums to test the waters. LED lighting devices form a very competitive market, and there is room for improvement regarding different standards and sales channels are still limited. Most of the producers have yet to make profits.
The popularity of LED lighting definitely hinges on pricing. The current retail price of an LED bulb may stand at US$20, but an incandescent light bulb only costs US$1.5. We expect the penetration rate will be 4% when the price is cut to US$15 per bulb, 10% at US$7.5, and 25% at US$3.75, which is 2.5 times the price of an incandescent bulb.
Epistar believes LED applications have no boundaries. We were the first company to work with Samsung and introduced LEDs in mobile devices. Nowadays, we can find that 50% of the notebooks on the market have adopted LED technology. Epistar was the leading company in adopting LED technology in TVs, when Korean peers were still lagging behind. Lighting will be our next focus.
Why does LED lighting cost so much? The answer is in the cost structure. Cooling and metal bonding have the highest shares of the costs, while LED drivers come in second, followed by LED bin sorting. People may usually attribute the high costs to the high prices of LED chips, but LED chips in fact do not cost a lot. Their share of the production costs is even smaller than that of phosphor, whose prices are increasing.
Take 800 lm light bulbs for example. The luminous efficacy is 100 lm/W in 2010, with 0.5 in luminous efficiency (0.5 for heat); driver and optical efficiency is both 80%; and Delta T is 106.3. Based on the above data, the input power is 12.5 W. If all the factors above are to be improved year by year, by 2015 the luminous efficacy will be 150 lm/W and luminous efficiency will be 0.75 (0.25 for heat). The input power will be 6.6W, and the heat it generates is less than 2W (6.6x25%), which means that cooling will not even be an issue in the future.
Another concern for LED lighting devices is the actual use. For consumers, all they need to do is switch on or off the lights. Therefore, the development of AC LED technology is crucial. However, the bridge rectifier for AC LEDs is more costly, so we transform the integrated single-chip to a single chip with an external bridge rectifier diode, making it an HV LED which can endure high voltage and low current (no adopter needed). On top of that, without the internal bridge rectifier, the emitting area has increased. It suits both AC and DC. Not only does it save energy, but it is also more economical. It also supports the original design for dimming current.
Epistar's high brightness blue HVLED is an InGaN LED, whose brightness has improved by 20%. The high brightness red HVLED is an AlGaInP LED which can greatly narrow the gap between warm and cold lights from the original 30%. Epistar's goal is to reach 130 lm/W in 2010, and over 150 lm/W by 2012. We believe that cooling will not be an issue by then.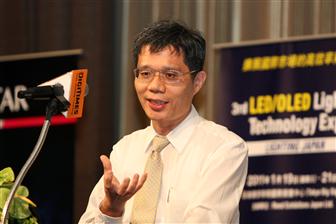 Epistar vice president Carson MH Hsieh
Photo: Digitimes, October 2010