Digitimes Insight: Taiwan 2Q11 digital camera shipments expected to exceed 14 million
Betty Shyu, DIGITIMES Research, Taipei
Wednesday 27 April 2011
Taiwan-based makers will ship 14.772 million digital cameras in the second quarter of 2011, rising by 25.1% sequentially but dropping by 1.4% on year, according to data collected by Digitimes Research.
Ability Enterprise and Altek will be the top-two makers in terms of unit shipments with a combined share of 82.9%, while Fujifilm, Nikon, Eastman Kodak, Sony and Samsung Electronics will be the five largest clients in terms of order volume.
Of the shipments, 51.5% will be 14-megapixel models, followed by 12-megapixel ones with 28.5%, 10-megapixel or below with 13.3%.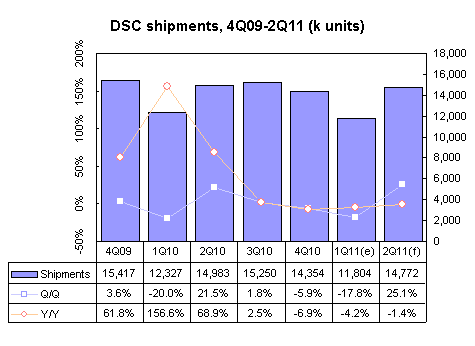 Source: Digitimes Research, April 2011