Sense and control better with uPI's uS series
Press release
Tuesday 10 May 2011
When we (attempt to) digitalize everything, there are always things left to the human senses – emotion, morality, aesthetics, and aesthesia... Well, there's something we can do about aesthesia with analog to digital conversion (ADC) technology.
Light sensor is a perfect example of how ADC technology has been adopted for people to access and utilize the digitalized world. Being at the vanguard of technology innovation, uPI provides the most advanced and extensive analog digital conversion (ADC) solutions by incorporating the advantages of silicon design, foundry-based process fine-tuning and manufacturing capacity. Highly efficient, designer-friendly, varied and with a cladding filter-free technology, these solutions are part of the uS family of products that include: a full range of ambient light sensors (ALS), proximity detectors, multi-functional sensors, and UV sensors.
Cladding Filter-Free: Closest Spectrum to Human-Eye Sensitivity
Unlike traditional wafer-coating methodology, the uS series of light sensors incorporate photon sensor, amplifiers and analog/digital circuits into a single chip by CMOS process. Such innovative cladding filter-free technology provides not only lower production time and cost, but also provides the closest spectrum to human-eye sensitivity in the market!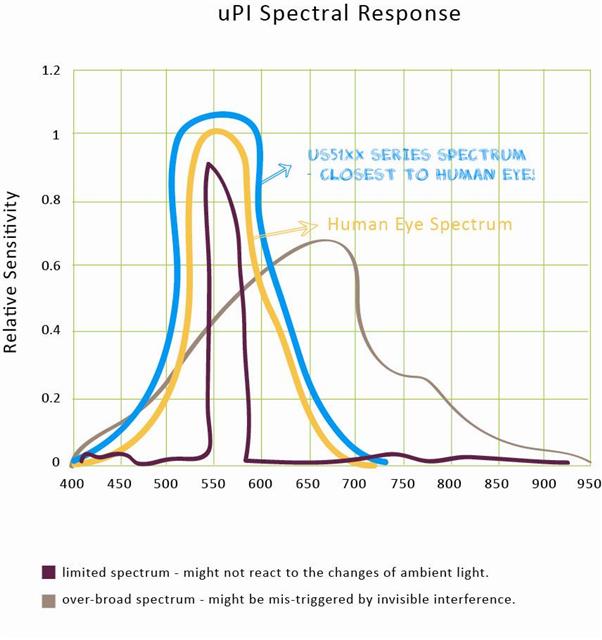 Variety of Choices
uPI's uS510x and uS515x series products, in both analog (current / voltage) and digital I2C output types, are designed to dynamically adjust the brightness of LED/LCD display to best suit human-eye visibility and ambient light.
uS513x and uS518x series products showcase multiple combination among analog/digital output ambient light sensors, proximity sensors, and IR LED drivers. The compact all-in-one solution fulfills the complex need of ambient light sensing and proximity detection for smart phones, digital cameras or monitors/laptops with presence-detecting features.
Variety of Choices

Ambient Light
Sensor

Proximity
Sensor

ALS+PS+LED
Driver

ALS+PS+LED
Driver + IR LED

UV
Sensor

Analog

uS510x series

uS511x series

uS513x series

uS512x

uS514x series

Digital I2C

uS515x series

uS516x series

uS518x series

uS517x

uS519x series
High Efficiency and Designer-friendly
The built-in shut-down function and low shutdown/supply current effectively optimizes the efficiency, which benefits the battery-powered devices. Selectable current/voltage output gain (uS510x), I2C programmable shutdown control (uS516x) and adjustable ambient light sensitivity (uS510x, uS515x, uS513x, uS518x) provides designers best flexibility in designs.
uPI Light Sensors Line-ups

Part Number

Description

Min
VDD (V)

Max
VDD (V)

Peak Wave Length
(nm)

Gain Setting

Package

uS5101

Analog Current Output Type ALS

2.4

5.5

550

I/O High/Low

VDFN1.6x1.6-6L

uS5131

Analog Current Output Type ALS with Short Distance PS

2.4

5.5

550 (ALS)
830 (PS)

external resistor

OPLGA-6L
VDFN2*2-6L
VDFN2.35*1.8-6L

uS5151

9bits Digital Output Type ALS with I2C Interface

2.4

5.5

550

I2C

VDFN2x2-6L
OPLGA-6L

uS5181

9bits Digital I2C Output type ALS+PS+IR LED driver

2.4

5.5

550 (ALS)
830 (PS)

I2C

OPLGA-6L
VDFN2.35*1.8-6L
VDFN2*2-6L

uS5161

9bits Digital I2C Output type PS +IR LED driver

2.4

5.5

830

I2C

VDFN2x2-6L
OPLGA-6L
uPI has done it once again! With the introduction of this set of light sensor solutions, uPI yet again stays ahead of the competition by simplifying complex hi-tech solutions through the integration of easy-use, efficiency, and variety.
DIGITIMES' editorial team was not involved in the creation or production of this content. Companies looking to contribute commercial news or press releases are welcome to contact us.