Accordance showcasing RAID 1/RAID 0 disk arrays
Press release
Tuesday 31 May 2011
Since 1998 when it delivered the first Direct IDE-IDE RAID 1 disk array subsystem in the world, Accordance has continued to provide different disk array products for over 10 years. ARAID not only sells to Japan, the US, Europe, Australia and Taiwan, but also is appointed by many users as their standard disk array products for such devices as servers, industrial PCs, production machines, and NAS. Based on 14 years of experience developing IDE, SATA and SCSI disk array products, Accordance is now focusing on developing and manufacturing RAID 1/RAID 0 disk arrays, industrial RAID server, megapixel surveillance IP camera and monitoring software to fulfill the need of global customers.
Accordance's RAID 1/RAID 0 disk arrays are the internal ARAID 3500, designed for 3.5-inch SATA II HDD, and the ARAID M300, designed for 2.5-inch SATA II HDD. ARAID supports AHCI mode, and there is no need for add-on card and driver, or for users to switch off the computer while swapping HDDs. It can do auto rebuilding. There is an external model, the ARAID M300T, which comes with a standalone power supply unit for providing stable and safe operation. It also has holes in the front panel and uses aluminum material as casing for excellent heat dissipation environment. ARAID also provides three different host interfaces - IDE, USB 3.0 and e-SATA - for users to choose from.
RAID servers are industrial standard with multi-functions, such as work stations, network servers, database servers, NDVR and other applications. ACCO-3U-16B is a 16-bay server which comes with an industrial motherboard, 24-port 10/100M PoE switch with extra 2-port combo gigabit, redundant power, LCD and blue LED indicators, and RAID 0, 1, 1E, 5, 5EE, 6, 10, 50, 60, JBOD disk array functions. Accordance also provides a smaller size product, the ACCO-2U-8B, which is an 8-bay server and comes with an industrial motherboard, redundant power, LCD and blue LED indicators, and RAID 0, 1, 1E, 5, 5EE, 6, 10, 50, 60, JBOD disk array functions.
For the surveillance market, Accordance has developed its own brand ARay camera series. The first model is the ARay 3MP, which uses Sony's CMOS sensor with 3-megapixel resolution, and minimum illumination is 0.2 lux at Color mode and 0.01 lux at Black/White model. It comes with H.264, MPEG4, MJPEG compression types, support for PoE and motion detection and built-in SD card and microphone. Furthermore, the ARay 3MP uses aluminum as its casing, which can provide good heat dissipation.
Another product is the AOR (Appliance Operation Record), which is a monitoring software. Most loggers (or Internet content recorder) can only record text, but cannot provide all images of console operation during live monitoring. When administrators need to retrieve past images/information of what SI staff, users and maintenance service providers have done, the AOR + SpiderDuo (Lantronix) is the best solution for them. This solution provides Live View feature for either local or remote users, which also can avoid disclosure of confidential information. It will start to do recording when the monitoring device is operated or accessed. It is not necessary to install any monitoring engine at any device. Neither will it increase the loading and bandwidth for any device.
Accordance welcomes visitors to its Computex booth K203 on the 1st floor of TWTC Nangang Exhibition Hall.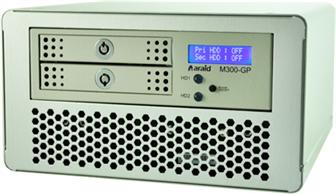 Accordance ARAID M300T
Photo: Company