Macronix president CY Lu wins 2012 IEEE Frederik Philips Award
Press release
Tuesday 2 August 2011
Hsinchu, Taiwan, Aug. 01, 2011- Dr. C.Y. Lu, President of Macronix International Co., Ltd., was selected to receive the 2012 IEEE Frederik Philips Award by the Institute of Electrical and Electronics Engineers (IEEE) – an award that has often been described as the equivalent of the Oscar Award for electrical engineering. This award recognizes Dr. Lu for his long-term dedication to fostering technological innovation and his leadership and contributions to research, development, and industrial alliances in semiconductor technology. Dr. Lu is the first recipient from Greater China to have won this special accolade in the award's 42-year history. The IEEE will present this award to Dr. Lu at one of its major international technical conferences in 2012.
"It is a great honor to win this award. This award recognizes not only my accomplishments but those of the entire Macronix team." said Dr. Lu. "I feel incredibly fortunate that throughout my 30-plus years working in the semiconductor industry, I have been able to combine my passion and curiosity with my professional endeavors and, in doing so, have been able to contribute to the industry. I would like to express my deep gratitude to the partners with whom I have collaborated in each and every stage of my career. In the future, I will continue to devote my passion for technological innovation to advancing Macronix's R&D and manufacturing capabilities for nonvolatile memory to further our contributions to the high-tech industry."
The IEEE Frederik Philips Award is a prestigious international award established in 1971 through an agreement with the Netherland-based Philips Electronics NV to honor individuals and institutions for outstanding accomplishments in managing R&D, resulting in effective innovation in the electrical and electronics industry. Since its establishment, it has been awarded to 42 individual or institutional recipients. These recipients include: William O. Baker (1972), a former President of Bell Labs who advised five U.S. presidents on scientific matters; Arun N. Netravali (2001), the ninth President of Bell Labs and Chief Scientist of Lucent Technologies; Gordon E. Moore (1979), Co-Founder of Intel and inventor of Moore's Law; Roger J. Van Overstraeten (1999), founder of Belgium-based IMEC; and John E. Kelly III (2010), Senior Vice President and Director of IBM Research.
Dr. Lu has consistently been recognized both at home and abroad for his accomplishments in high-tech R&D. In the mid-1980s, when he was a member of the research technical staff at Bell Labs, he developed 600V BCDMOS IC technology, the highest voltage the industry had achieved at that time. In 1987, he presented a seminal technical paper, "Variable Hold (Retention) Time Phenomenon in DRAM," at IEDM. This was the world's first-ever technical paper on the phenomenon, which helped the industry greatly improve the reliability of DRAM. Dr. Lu then led the R&D efforts on sixth generation twin-tub 0.6 micron CMOS technology, which allowed the semiconductor industry to flourish and in part is still widely applied today.
In 1989, at the invitation of then Taiwan's Senior Presidential Advisor K.T. Lee and then Industrial Technology Research Institute (ITRI) Chairman Morris Chang, Dr. Lu returned to Taiwan to assume the position of Deputy Director of ITRI's Electronic Research & Service Organization (ERSO). He was later appointed to head the Ministry of Economic Affairs' National Submicron Project and successfully led this project to achieve Taiwan's development of its independent R&D and mass manufacturing of state of the art DRAM. This accomplishment not only equipped Taiwan with 8-inch wafer process technology but also established Taiwan's firm position in the global semiconductor supply chain. Under Dr. Lu's leadership, Taiwan became a major player in the semiconductor industry by the late 1990's. In recognition of these achievements, the Prime Minister of Taiwan awarded him the National Science and Technology Medal. In 1994, the Submicron Project was spun off from ITRI to become a commercially-operated company, Vanguard International Semiconductor (VIS). Dr. Lu co-founded VIS, which became a key driver for the development of Taiwan's DRAM industry.
In 1999, Dr. Lu founded a very-large-scale-integration (VLSI) testing company, Ardentec, and also joined Macronix to lead the company's R&D for advanced memory technology and to establish long-term strategic partnerships with world-class tech companies, including IBM, Infineon Technologies, Mitsubishi, Renesas, and Qimonda. In recent years, Macronix has invented and filed more than 4,200 international patents for high-quality inventions. Dr. Lu's team has presented their innovative technology at IEDM, ISSCC, VLSI, SSDM, and other prestigious international technical conferences. In fact, Macronix has presented more papers and highlighted features at these conferences than any other industry or academic participant from Taiwan. For example, in 2010, the VLSI Symposia - the world's most important international symposium on IC technology – selected Macronix's research on innovative 3D NAND Flash technology to be a Highlight Paper. It was the only research paper from Taiwan to receive this honor.
Dr. Simon M. Sze, an NAE member who invented the floating-gate nonvolatile memory device, said, "Early in his career, Dr. Lu developed advanced CMOS technology. Then, he led the ITRI team to develop submicron technology and to apply it to real commercial volume production. In recent years, he has made great strides in advanced nonvolatile memory technology. All of these accomplishments have established his strong reputation in the academic world on advanced technology and serve as a testament to his outstanding contributions to applied science. He has also contributed much to developing home-grown technologies and increasing momentum for Taiwan's semiconductor technology. He deserves the honor of being recognized as the pioneer of applied science in Taiwan."
Dr. C.L. Liu, an Academia Sinica Academician and former President of National Tsing Hua University, commented on the news of Dr. Lu winning the IEEE Frederik Philips Award: "President Lu is both a visionary and a man of strong will. He is a leader, an entrepreneur, and a hard driving practitioner who has vision and is capable of carrying out his vision. He truly deserves this honor."
Dr. Lu has published more than 360 technical papers and is an inventor for over 140 international patents. He is a Fellow of IEEE, a Fellow of the American Physical Society (APS), and a Fellow of the Chinese Society for Management of Technology. In 2000, IEEE presented a Millennium Award to Dr. Lu in recognition of his important contributions to the economy and society. Dr. Lu has also received the National Invention Award and Best Project Award from the Ministry of Economic Affairs, the Pan WenYuan Outstanding Research Award from the Pan WenYuan Foundation, and the Distinguished Alumni Award from both National Chiao-Tung University and National Taiwan University, as well as many other honors. He served as an editor for IEEE Transactions on Electron Devices for 15 years and was also the President of Science Monthly magazine. He is a strong supporter of popular science education and also promotes various other technological, academic, international alliance, and exchange events for the industry.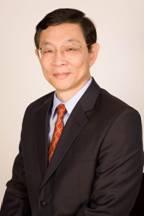 Macronix president CY Lu
Photo: Company
Media Contact:Michelle Chang
Department Manager
Corporate Communication Office
TEL: +886-3-578-6688 ext. 71233
Mobile: +886-933310870
Email: michellechang@mxic.com.tw