Chilisin receives worldwide recognition for satisfying clients' full range of demand
Sponsored content
Wednesday 26 October 2011
The quick rise of mobile devices such as tablet PCs and smartphones has significantly changed consumers' habit, and opened up huge business opportunities for upstream component makers. But as the development of mobile devices is getting faster and faster, trending towards faster computing speed, lighter weight, slimmer size and longer battery life, components within the devices will need not only to have their sizes shrunk, but also to provide features such as low-power consumption and high- power performance in order to further extend mobile devices' product life. Therefore, the ability to overcome materials' physical and electrical constraints, grasp the pulse of market changes and launch products that suit market demand will be crucial in keeping one's leadership in the market.
One of the major reasons that Chilisin Electronics, as Taiwan's leading inductor supplier, has been able to receive orders from Korea-based clients is that it has a complete product portfolio to offer clients a one-stop shopping service. In contrast to solutions offered by other players in the market, Chilisin's inductor product line is not only capable of competing against international brands, but even also on the verge of surpassing them. Some of the series launched in recent years, such as the molding power chokes and multilayer power inductors, are already outperforming those of first-tier competitors.
According to Chilisin's management team: "We hope to provide a one-stop shopping service, providing clients with a service based on a complete range of inductor components. Therefore, in addition to always staying aware of the market trend, we have also been active in involving in our partners' R&D plans." Moreover, Chilisin also has the capabilities of making key materials, such as ferrite powders and ferrite cores. It can mix the materials according to the scope of applications. Therefore, its performance in terms of conversion efficiency is way better than Japan brands. This is why it has become a partner of so many international brands.
Active understanding of market trends, active development of new products
Optimistic about the potential of smart mobile devices, Chilisin has been investing significant R&D resources in developing products such as multilayer beads and inductors and power chokes, and it has achieved brilliant results. Currently, Chilisin has a monthly capacity of two billion multilayer beads and inductors. Considering that smartphones' operating frequency is becoming higher and higher, the company has launched variety of Multilayer Power Inductor. MPD is an on going design of high saturating current up to 2A, adding to its existing MPA, MPB and MPC series, in order to satisfy its partners' full range of demand.
Besides, Chilisin is also in active cooperation with Taiwan's IC design industry to integrate inductors into IC components to meet the mobile device trend towards thinner and lighter form factors. "Judging from the current development of semiconductors, integrating different components will be the only solution to achieve the goal of shrinking product size," according to the Chilisin management team. "Through mutual collaboration, Taiwan's IC industry will have even stronger competitiveness, and it also meets Chilisin's management strategy of satisfying clients' demand." Under Chilisin's planning, power IC components with integrated inductors are expected to be launched in 2012 to provide its partners in the end market with a one-stop shopping service that will allow them to design thin, light and compact products.
As for Chilisin's wire wound chip inductor product line, the company was already able to shrink it to the 0302 size long ago, and with monthly capacity having reached 120 million units now, the company is one of the major suppliers worldwide. As for the company's LVS product line, the component is mainly meant to replace the traditional hand-wound power inductor. It can be used in products such as handheld devices, networking products and LCD TV, with the company's monthly capacity already reaching 50 million units. To further strengthen its products' electrical capability, Chilisin is set to launch the LVF series wire wound power inductors, which will feature an even smaller size, higher power and less power consumption. With planning for an even more complete product line, the company can provide its partners with a wide variety of product choices.
Chilisin noted: "Because of a very clear division of labor in our design team, we are able to provide a series of products and services in quick response to market demand. Take the low profile molding choke for example. We have already launched a product in a size of 3x3x1.2mm. The product can be used in tablet PCs and notebooks in big volumes."
In addition to providing its clients with high quality inductors and a one-stop shopping service, Chilisin is able to increase it production volume and roll out products of stable quality through fully automated production. Furthermore, Chilisin places strong emphasis on complete technological support and services. It can not only respond to clients' demand within 24 hours, its R&D team and field application engineers (FAE) can also offer timely technological support to assist clients in launching new products to meet market demand.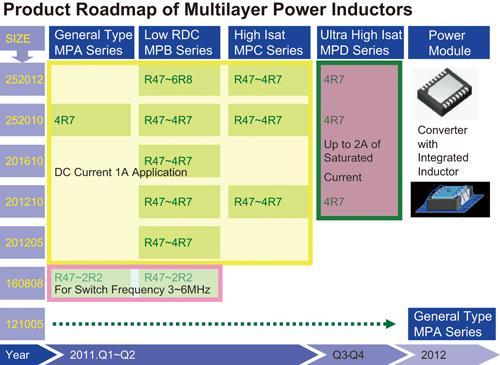 Source: Chilisin Electronics
DIGITIMES' editorial team was not involved in the creation or production of this content. Companies looking to contribute commercial news or press releases are welcome to contact us.