MSI announces sales promotion with Thermaltake: limited edition MSI X79A-GD65 (8D) mainboard with Thermaltake Frio Advanced CPU Cooler bundle
Press release
Friday 18 November 2011
Leading international mainboard and graphics card maker MSI announced its latest X79 mainboards with LGA 2011 socket that supports the 2nd generation Intel Core i7 processors. In addition to its commitment to offer the best product features, MSI has now partnered with well-known cooling solutions manufacturer Thermaltake to provide consumers with even better performance and product incentive by pairing the X79A-GD65 (8D) mainboard with the Thermaltake Frio Advanced CPU Cooler. The new limited edition bundle is now available through all major e-tailers and retailers worldwide.
Scott Yang, Vice President of Mainboard Sales at MSI, said: "MSI mainboards and graphics card have won unanimous approval for their high stability and high performance since military class components were introduced in recent years. The Intel 6-series mainboards we released this year were also very well received. Our new products are intended to capitalize on our previous success and provide consumers with an even better performing platform. MSI is delighted to partner with well-known cooling solutions maker Thermaltake to bundle MSI's X79A-GD65 (8D) mainboard with Thermaltake's top-of-the-line Frio Advance CPU cooler. The combination of the two products will provide the consumers with powerful performance."
Louis Huang, Thermaltake's Executive Vice President of Business Operation, said: "Thermaltake is a leading provider of computer cooling solutions and we began offering the Frio CPU cooler series 2010. The Frio is designed to effectively reduce the temperature of CPUs, even when overclocked. Thermaltake has now leveraged our past success to release the all new Frio Advanced CPU cooler for overclockers in the fourth quarter this year. We are very happy to form this new global sales partnership with MSI to provide consumers with the best platform performance. Both brands will benefit from this development."
The all-new MSI X79 mainboards adopt Military Class III components for the best quality and stability. Not only are all components MIL-STD-810G certified, the new mainboards come with the latest PCI Express Gen 3 bus and MSI's exclusive Click BIOS II to deliver the best possible performance and user-friendly tweaking experience. The OC Genie II can generate amazing performance improvements in just one second.
The X79A-GD65 (8D) also supports up to 8 sticks of 16GB DDR3 memory. The total memory capacity up to 128GB rivals that of servers and workstations, making it the perfect choice for extreme performance enthusiasts. The new Frio Advanced CPU cooler from Thermaltake features five 6mm direct-contact heat pipes for improved heat transfer. A convenient screw-free fan design, shock-absorbing rubber screws that help reduce noise and vibrations along with a new integrated universal mounting clip enables the Frio Advanced to support the latest Intel LGA 2011 processors. The eye-catching 13cm red-bladed overclocking fan doubles the air flow and increases maximum thermal dissipation to 230W. Tests on the MSI X79A-GD65 (8D) mainboard have seen the Frio Advanced keep the CPU 10 degrees cooler than the reference cooler . The added cooling should provide a boost for those looking to challenge the limits and trigger off another performance race.
For more retailer and product information, please visit the following website: http://event.msi.com/mb/x79/thermaltake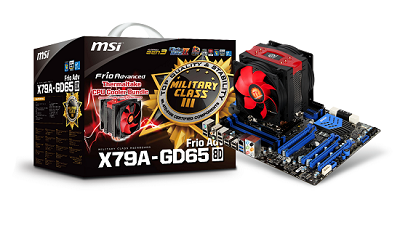 MSI X79A-GD65 (8D) mainboard with Thermaltake Frio Advanced CPU Cooler
DIGITIMES' editorial team was not involved in the creation or production of this content. Companies looking to contribute commercial news or press releases are welcome to contact us.