Chilisin in full throttle for smartphone market by launching high-power, energy-saving inductor products with high CP ratio
Press release
Monday 12 December 2011
It is an era dominated by 3C products, and in almost all product categories there are flat panel devices. For such devices, a thin and light design is a common goal, and for mobile devices, energy-saving is another important goal. Because of these considerations, components for these devices must be developed in a direction towards making them smaller and consume less power. According to the Chilisin team, "As smartphones now also adopt multi-core processors that significantly increase the devices' overall power consumption, there are stricter requirements of inductors' DCR. The lower the DCR, the less power consumed. In addition, developing smaller-size inductors is our R&D direction and we have already achieved significant results."
Chilisin, the leader of inductor sector in Taiwan, is currently capable of producing two billion multilayer beads and inductors and 120 million wire wound chip inductors each month. It is the major supplier worldwide. To fulfill the demand of the 3Cmarket, Chilisin has been focusing on the development of LVS power wire wound inductors and its latest LVF series power wire wound inductors, which feature a smaller size, higher power but less power consumption, have already entered mass production.
LVF series greatly enhances power performance
Chilisin pointed out, "Due to breakthroughs in material technologies, the LVF series inductors' inductance value can increase by 70%, DCR can decrease by 20% and rated current can rise 20%, significantly improving all the related properties. They are as good as products of Japanese competitors, but their unit prices are at least 30% lower. Therefore Chilisin's products have a better CP (cost/performance) ratio." In the face of the low-price smartphone trend next year, Chilisin's high CP ratio will clearly be its best weapon for further expanding its market share. Chilisin's newly launched LVF series inductors are sized at 2.5mmx2.0mmx1.2mm.The 2025 size is the mainstream size of smartphone-use power inductors, accounting for around 70% of the demand of 400 million high-end power inductors in the market. It is understood that currently not too many players are able to supply power inductors of such a small size. Therefore, through the launch of the LVF series, Chilisin hopes to achieve a 20% share of the market next year.
In addition to leveraging its high CP ratio to compete in the smartphone market, Chilisin's capability of vertical integration is also a strong advantage in the face of price competition. Chilisin pointed out that the basic powders needed for manufacturing inductors and the related production processes are both fully handled by the company itself without the need of outside help. This is exactly where Chilisin's core capabilities lie.
In-house capacity for material and inductor production efficiently lowers production cost
As it is self-sufficient in materials and production processes, Chilisin has been the leader in launching various products, such as its multilayer power inductor series for handheld devices. The inductors are currently the smallest available on the market. Chilisin pointed out that although the investment was high, in order to increase its competitiveness and maintain its market advantages, Chilisin decided to install dry process equipment in 2010 while other inductor makers were still cautious about it. With the equipment, Chilisin was able to develop different combinations of materials and shapes earlier than its Taiwan-based competitors. Its capability of producing such components as high-end miniaturized multilayer power inductors is comparable to that of Japanese competitors.
Chilisin pointed out that the multilayer power inductor is mainly used in high-end handheld devices because a device will encounter physical limitations after shrinking down to a certain level, making wire wound chip inductors unusable, and leading to the necessary step of adopting multilayer power inductors. As for the smartphone segment, Chilisin has already finished developing a high-end small-size thin-film inductor with mass production scheduled for 2012. It is understood that the thin-film process is rather common in the semiconductor sector but in the inductor sector only a few of the players have the related know-how. Since Chilisin possesses the technologies to produce both multilayer and thin-film inductors, the company in the future will integrate the two technologies to achieve breakthrough in developing inductors bearing the characteristics of both in even smaller sizes.
Chilisin's complete and multiple inductor product lines, including multilayer inductors, wire wound chip inductors, thin-film inductors, multilayer power inductors and low profile molding chokes, are able to satisfy demand from different kinds of mobile devices such as smartphones, tablet PCs and notebooks, and can also be used in PC monitors or LCD TVs. With competitiveness coming from its in-house control of the upstream production process, material cost control enabled by flexible material management, and a head start on installing advanced production equipment, Chilisin apparently has been well-prepared to deal with the market uncertainties in 2012.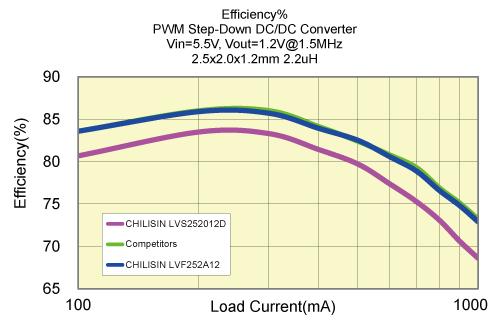 Chilisin's LVF series products have better CP ratio than Japanese competition.
DIGITIMES' editorial team was not involved in the creation or production of this content. Companies looking to contribute commercial news or press releases are welcome to contact us.