By adopting IT tools to overcome challenges faced with inspection work, management of public utility lines can be more efficient
Press release
Wednesday 22 February 2012
All utility businesses - whether it is water, electricity or gasoline - face one common challenge while maintaining their service quality: the maintenance of complex utility lines, and related management and monitoring work. Utility lines may stretch more than several thousand kilometers. If they are only manually managed in a traditional way, it would be difficult to effectively increase efficiency.
Under traditional methods used to make sure inspection personnel are conducting patrol routines following assigned routes and making correct and timely observations - or perhaps to make sure a maintenance crew carries out regular on-site work - management may only be able to utilize patrol sheets that are signed by the crew when a task is completed. However, human errors may be unavoidable. Therefore, many utility businesses in Europe and the US have already started adopting IT solutions to assist their inspection work.
If PDAs, RFID chips or GPS devices are used, the process of the crew's patrol and the time of their arrival can all be displayed in real time at the information center through the Internet, allowing the management to have real-time understanding of the utility lines' conditions and make timely judgment and decisions.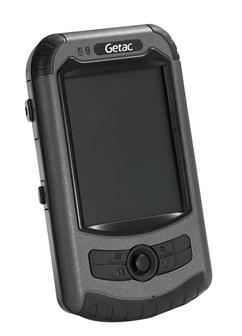 Photo: Using the GPS/PDA reporting system to handle operations such as routine pipeline patrol and inspection can avoid errors created by weather conditions and false reports by personnel assigned to the work. It can simplify the on-site inspection process and boost efficiency. (Provided by Getac)
Using IT to collect information and create benefits
Information collected from the patrol and maintenance of utility lines can be used in a more valuable way if IT solutions are employed. Information collected during patrol from naked-eye observations or tool detections concerning the conditions of the lines and equipment - such as pressure, temperatures and the extent of corrosion to the devices - can all be stored in the database and used as a reference for future maintenance work or purchase of new equipment.
Take Formosa Plastics Group's production plants for example. Since the plants started adopting PDA solutions in 2005, the number of such devices used has already reached about 1,000. After reaching the destination, the inspection crew first signs in through RFID on the site. The inspection information is stored in the PDA and taken back to the office directly. The information does not have to be processed a second time, which saves the crew the trouble of keying in the information again and reduces the chance of making mistakes. It is a great help in terms of accuracy or reducing working hours.
Formosa Technologies Consultant Eric Chang pointed out that the time required for patrol personnel to enter data will become shorter and shorter. For some longer inspection routes, the working hours required can be reduced to 1.5 from two, a drop of 25% that helps boost efficiency much.
For standard patrol work, the format of data input and control interface can have modularized designs, making it much easier to adopt PDA solutions. However, in some cases, management can become very demanding because of the plant's large area, huge number of devices and complex conditions of the utility lines. In such cases, a modularized design may be impossible and it would be difficult to accomplish real-time control.
Chang believes that to handle anomalies in real time, information richness is very important and one needs to at least have a good grasp of the equipment's history. Therefore, the IT tools will need to provide not only input functions, but also access to data. However, the screens of PDAs are too small, making it difficult for on-site personnel to read historical files, such as the drafts of the equipment or utility lines. Tablet PCs may serve the purpose better.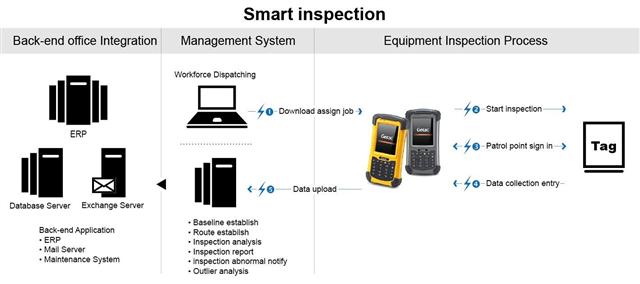 Photo: Employing IT solutions to establish utulity line inspection systems allows personnel to handle all kinds of situation through the IT tools in real time. (Provided by Getac)
Furthermore, IT tools' capabilities of enduring harsh environments are also very important. Getac Technology Marketing Manager Richard Lee pointed out that Getac, when providing sewer maintenance solutions to Berliner Wasserbetriebe, discovered that along Berlin's 9,500km network of sewer pipelines there were a total of 200,000 openings for discharging water that was mixed with mud and all kinds of elements, making it a very harsh environment for maintenance work. Durable and high-performance computers with reliable functions and easy-to-use interfaces would be needed to help the personnel of Berliner Wasserbertriebe with their work even under the worst weather conditions, enabling smooth collection of data that could be used by headquarters or the use of other geographic information system (GIS) applications to greatly enhance and improve staff efficiency.
Wireless communication technology provides real-time information
Another utility line inspection-related IT solution is based on wireless data transmission technology. For example, Taipei's Water Department currently has more than 100 monitoring points and the inspection personnel, in addition to making regular patrols to see whether the equipment is damaged or to check data to determine water pressure or turbidity, have also started using GSM text messages to report back information about leakage.
Collecting more information can also help utility businesses face a future that will see more drastic climate changes. For example, by referencing historical records a water service can predict how water should be allocated in the future to maintain stable water pressure and save water resources.
However, the adoption of IT solutions for inspection of water pipelines needs to resolve the problems concerning the adaptability of the solutions in the face of such harsh conditions as high temperatures, moisture and soil erosion. The solutions must also be usable for at least 10 years. Furthermore, to ensure stability, the trial run may last as long as half a year. These are challenges that IT players must meet when tapping such a market segment.
Lee pointed out that for example, South East Water in England has a water supply pipeline network of 14,000km, providing basic services to 2.1 million users through over 900,000 pipe fittings connected to various commercial and residential buildings. For the company, monitoring and handling water leakage has always been a major priority.
Lee noted that currently South East Water has its pipeline inspection personnel using Getac V200 rugged and rotatable notebooks on transportation vehicles. When not being used in the vehicles, the notebooks can be quickly converted into tablet PCs to allow engineers to view information and execute functions that may be impossible to do on a small screen.
If the system reports any leakage, engineers can quickly confirm the location through the vehicle's built-in GPS and identify the nearest cut-off valve. They can then use Getac V200 to analyze the problem and use its built-in 3G communication module to send real-time messages to the back-end technical support department.
If the issue cannot be resolved, engineers can decide to call in a team of technicians for the repair work and report the whole situation to headquarters directly.
Photo: Through the RIS system, utility businesses can quickly and accurately acquire real-time information concerning the positions of utility lines, their related facilities and topography of the surrounding environments. (Source: CPC)
Equipment weight and battery life are the keys
In fact, it is not jut about efficiency. When actually working on-site, patrol crews may encounter some problems using IT tools. Tablet PCs may be a help for information search, but the crew may be already carrying with them a lot of other equipment. For example, to prevent odors at plants in Mailiao, inspection personnel need to bring along the electronic nose. And if they are asked to carry the extra weight, the chance of personnel protesting is naturally higher.
In the long run, though, the use of IT tools to provide applications such as picture taking and positioning (track records) will increase the efficiency of utility line inspections. If future solutions can integrate other sensing devices (such as temperature and quake sensors), it will make on-site work easier and more acceptable for the on-site personnel.
The implication is that apart from paying attention to the IT tools' robustness, the CPU's computing speeds must be higher. And since a pipeline inspection routine may require 2-3 hours to complete, it would be inconvenient if on-site personnel must carry spare batteries. Therefore battery life must last at least four hours to meet demand.
Be prepared and plan carefully
Whether it is a PDA or tablet PC that one is adopting, there will be challenge as far as changing the habit of on-site personnel. "Money and technology are not the problems; the problems mostly lie in the people," said Chang. "The staff at the beginning will resist, but as long as the user interface continues to improve, they will slowly get used to it and accept it."
Water and electricity supply networks and related equipment have usually existed for a long time with large numbers and numerous types of lines. There are also many legal restrictions to the allocation of budgets and purchases. Therefore, adopting IT solutions to achieve significant upgrades and replacements will require more careful planning.
Chang pointed out that data must first be well organized to enable a smooth input of the needed data into the database. "One must be certain what kind of equipment information must be collected and if necessary, patrol routes must be re-planned. Different organizations will have different demands, and before adopting the IT solutions, preparation must be well done," Chang said.
Lee suggested that utility businesses' IT solutions can be looked at from two perspectives - hardware and software. As utility businesses have complex working environments, related work can be generally divided into several service sectors: patrol of water resources; inspection of pipelines and underground channels; inspection of field and urban electricity grids; oil and natural gas exploration and production management; and mineral exploration, mining and transport management. In different areas and applications, one should choose an appropriate combination of software and hardware solutions.
For hardware, Lee believes that the most important thing is whether the solutions provide complete product lines and can adapt to the complex working environments of utility businesses. The oil and natural gas industries may even call for solutions certified for non-explosion proof and safety. If an IT player's product lines are complete, it can meet the timely needs of utility businesses to boost management efficiency.
As for software, Lee pointed out that the management applications adopted by public utility businesses are rather complicated, ranging from asset management, roster management, positioning and navigation assistance, information access and collection, to access to work manuals. In addition to customizing solutions for specific utility businesses, such as their demand for mobility, the utility businesses' enormous influence on people's rights must also be taken into consideration. Therefore considerations must be taken to see which applications are more urgently needed. The use of a system can be maximized if it is developed with actual needs and work flow in mind.
About Getac Technology Corporation
Getac Technology Corporation, founded in 1989, listed on Taiwan Stock Exchange, is one of the key subsidiaries of MiTAC-Synnex Business Group, the third largest computing group in Taiwan with 21.5 billion dollars revenue in 2010. Getac Technology corporation's main business encompasses two main categories; namely ruggedized computing solutions and plastic and metal component module business. Please visit Getac's website for more information.
DIGITIMES' editorial team was not involved in the creation or production of this content. Companies looking to contribute commercial news or press releases are welcome to contact us.