ATO Solution to launch 256Mb SLC NAND Flash - for the first time in fabless industry
Press release
Thursday 23 February 2012
ATO Solution stated that it has launched 256Mb (SLC) NAND Flash Memory products developed based on its own design technology.
Until recently, fabless companies have produced DRAM and NOR Flash products, but no fabless company had brought NAND Flash Memory products to the market. This was because no foundry had NAND Flash manufacturing technology and these products had been considered by those in the industry to be the province of leading international conglomerates.
ATO Solution's spokesman JM Kim stated that the company has enhanced its cost competitiveness thanks to the miniaturization of products based on its own unique peripheral design technology.
It has already started mass production from early this year, targeting first the Asian markets such as Taiwan, Korea, China and Japan. The company is also planning to expand its product range by adding 512Mb SLC to the low density product line-up within the 1st quarter.
In contrast to high density products such as 32Gb and 64Gb, low density products are used to replace NOR-Flash products which store the program code in digital camera, feature phones, LCD TVs and Set Tops. The market is estimated at approximately 3 billion US Dollars, or roughly 10% of the total NAND Flash market.
ATO Solution plans to incorporate its new products into its current main cash cow product, MCP (Multi Chip Package: one package putting NAND and DRAM wafers together), to sell to mobile phone and home appliance manufacturers.
ATO Solution's CEO Chris Park believes that, "with high quality and cost competitiveness, ATO will differentiate itself from major IDMs who are focusing on very high density and competitive technology migration." He added that, "with the company's new low density products, it will be able to taking a strong position as a specialized supplier in the low density NAND Flash market and achieve synergy with its existing MCP (Multi-Chip-Package) business. The company has set a target of USD 62 million in sales for this year."
In addition, ATO Solution is planning to bring to market within the year a new product called "SPI (Serial Peripheral Interface)" based on NAND Flash Cell Array technology. This new device will be able to replace the ROM BIOS in laptop PCs, which is currently covered by NOR-Flash.
ATO Solution plans to showcase its products at the China IIC exhibition 2012 in Shenzhen, China, from February 23th to 25th.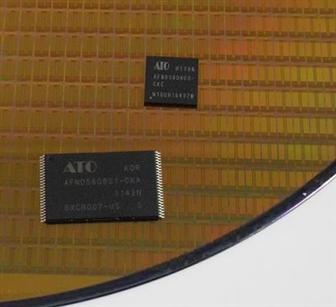 ATO Solution will showcase its new 256Mb SLC NAND Flash products at the China IIC exhibition 2012 in Shenzhen, China, Feb 23-25.
DIGITIMES' editorial team was not involved in the creation or production of this content. Companies looking to contribute commercial news or press releases are welcome to contact us.