Discover PC Trend 2012: ASRock Reveals New Technology Advances at COMPUTEX 2012
Press release
Tuesday 5 June 2012
TAIPEI, TAIWAN - Global top-3 motherboard manufacturer, ASRock Inc., is delighted to showcase its fresh technology kits at COMPUTEX 2012. From consumer motherboards that feature Intel's 22nm Ivy Bridge processors and Sandy Bridge-E platform, ultra-thin HTPC series that deliver irresistible value to enhance family bolds, IPC motherboards that bring the best solution to strength your business to a shiny debut of server and workstation motherboards, PC trend 2012 will be entirely covered here. To discover new tech details, all you need to do is to join ASRock at COMPUTEX 2012 in Nangang Hall, L1029A from June 5-9, 2012.
"Our goal" said ASRock Vice President of Marketing and Sales, James Lee, "was to integrate more faster, capable and powerful components into ASRock motherboards, allowing users to get more but spend less." "Our products are aimed to bring the highest C/P value in terms of hardware construction, software applications and the longevity of PC. At COMPUTEX 2012, we'll demo our new kits, including motherboards, HTPCs and IPC/Server/Workstation solutions. And we're confident to deliver a fantastic visiting experience to every visitor."
ASRock Exclusive Technology
Apart from allowing users to get the most reliable motherboard hardware solutions, ASRock also pay special attention to software development. XFast 555 Technology (XFast RAM, XFast LAN, XFast USB) let users to experience "REAL" performance boost (up to 5X better) in terms of PC's overall performance, LAN speed and USB transfer speed. Dehumidifier will automatically power on the system to dehumidify the system after entering S4/S5 state and reduce the level of humidity of nearly 30 percent. OMG (Online Management Guard) allows users to establish an internet curfew or restrict internet access at specified times. Internet Flash can auto-detect the latest UEFI from ASRock's servers and flash them within UEFI setup without entering Windows OS. Visits to COMPUTEX 2012 can have an exclusive look of ASRock Motherboards featuring above-mentioned exciting technology.
Motherboard
Motherboard Emperor: X79 Extreme11
The soon-to-be-released X79 Extreme11 is a premium motherboard using luxury material, applying high-class specification. Adding credits to overclocking, ASRock X79 Extreme11 adopts hefty 24 + 2 Power Phase Design which features tough components and smooth power deliver to the CPU. Unprecedentedly equipped with LSI SAS2308 chip, this feature-rich mobo provides maximum 10 sets of SATA3 connectors and 8 of the 10 can be used as SAS. Enthusiasts will also appreciate the onboard two PLX PEX 8747 bridges. Via PLX PEX bridges, ASRock X79 Extreme11 can run multi-GPU 4-Way SLI/CrossFireX at PCIe Gen3 x16/x16/x16/x16 mode without sacrificing anything.
For audio aspect, the onboard Creative Sound Core3D quad-core sound and voice processor offers true-to-life sound experience, supports THX TruStudio PRO superior technology, CrystalVoice, EAX 1.0 to EAX 5.0 and Scout Mode.
All-Rounder: Z77 Extreme9
The top-of-the-line Z77 Extreme9 motherboard combines luxury materials and overclockable configurations. The fancy LED design was clad in air-channeling heatsink and south bridge, delivering effective heat dissipation. PLX PEX 8747 bridge allows this board to run 4-Way SLI / CrossFireX at full PCIe Gen3 x8 / x8 / x8 / x8 mode. The exclusive 2T2R Dual Band WiFi 802.11 a/b/g/n + BT v4.0 Module offers support for WiFi 802.11 a/b/g/n connectivity standards and Bluetooth v4.0 and provide Dual Band frequency up to 2.4 / 5 GHz as well. Wi-SB BOX brings superior WiFi and Bluetooth signal quality and even provides 2 front USB 3.0 ports.
It's All About Overclocking: Z77 OC Formula
In addition to a wide range of premium motherboard solutions, a must-see product at ASRock COMPUTEX 2012 is Z77 OC Formula. This is an overclocking-oriented motherboard which was developed by the world's OC legacy performer, Nick Shih. The board opens up overclocking possibilities and gives you control opportunities in every way, featuring the most detailed and considerate design of any overclocking motherboard.
World's 1st 4-Channel Thunderbolt Mobo: Z77 Extreme6/TB4
This year, Thunderbolt should be the hottest topic at COMPUTEX. ASRock Z77 Extreme6/TB4 adopts 2 Thunderbolt ports which is first motherboard supporting 4-Channel Thunderbolt technology in the world.
What's Hot: AMD FM2 Series
At ASRock's powerhouse, visitors can also get a fresh look of AMD's new FM2 socket motherboards. For the imminent launch of the next generation of AMD FM2 platform, ASRock will present its most powerful APU motherboard series based on the upcoming FM2 socket. New lineup includes one ATX and two micro ATX mobos - FM2A75 Pro4, FM2A75 Pro4-M and FM2A75M-DGS.
SERVER/WORKSTATION
Build Up The Best Server/WorkStation
Dedicated to your business! ASRock make its debut of Server/Workstation motherboards at COMPUTEX 2012. New mobos include EN2C602-4L, E3C204-V, E3C204-4L and H77WS-DL.
Server segment is nothing new - but ASRock takes this seriously. Our comprehensive motherboard packages support 24/7 hours/days non-stop operation and 24-month life cycle guarantee supply. The premium quality is assured by rigorous testing during development as well. Creating the ultimate server/workstation is more than running a box of hard drives - it's about the software, how the hardware is configured, and how the box is connected and accessed. ASRock Server/Workstation motherboard series include everything essential that will surely serve pretty much all your needs!
IPC MOTHERBOARD
Productivity, Stability, Reliability
ASRock IPC Motherboard Series can be widely used for any kind of industrial usages. From KIOSK, gaming machine panel PC, retail & POS to surveillance..., getting more from the motherboard has never been easier. Coupled with top-end hardware components, premium software utilities and APIs, ASRock IPC Motherboard Series are surely the best solution to build up a successful business. More to the point, ASRock provides long-term and stable supply, even bundles 2 year warranties, we are confident to deliver high performance after-sales service as well.
HTPC
Sweet Home Starts Here: VisionX, Vision HT, MINI Series
ASRock new HTPC series is a combination of primo materials, overwhelming performance and sophisticated design that will turn your living room into the center of attraction and enhance family bonds.
Small in stature, the ASRock VisionX Series packs a very hefty punch. Supporting Intel's 3rd Generation Core Processors, AMD RadeonTM HD 7850M graphics and AMD HD3D Technology, VisionX Series offers the incredible performance that every user deserves. It's also equipped with BD Combo, 2T2R Dual-Band WiFi a/g/b/n/ design, THX TruStudio and Bistream audio, VisionX Series delivers 3D entertainment in stunning HD quality effortlessly.
Ultra-thin, ultra-silent and ultra-powerful, Vision HT Series supports Intel Mobile Ivy Bridge Processor, Bistream, THX TruStudio, BT v4.0, Dual-Band WiFi and Intel HD Graphics that will take center stage at your home! Based on AMD E2-1800 APU with AMD RadeonTM HD7340 graphics, ASRock MINI Series can let users get a richer and more immersive HD enjoyment.
If you want home theater furniture that performs as good as it looks, and the choice is obvious. Only ASRock HTPC Series combines stunning beauty and thoughtfully engineered features like MCE remote-friendly controller, superior WiFi and BT 4.0 design and excellent graphics solutions to create furniture that perfectly integrates technology into you home.
ASRock COMPUTEX 2012 At Nangang Hall, L1029A
Prepare yourself for an epic overclocking joyride with the new ASRock X79 and Z77 motherboard series. Enjoy the eye-popping realism of 3D with ASRock new Vision HTPC Series. Tech trend 2012 is all at ASRock COMPUTEX 2012. Join us; ASRock's exciting show will definitely astound your eyes.
For more detail information, please visit :
http://www.asrock.com/news/show/computex2012/
Contact Information
Jeff Hong
Marketing Department
TEL: +886-2-28965588 ext.11732
FAX: +886-2-28931557
http://www.asrock.com/
E-mail: jeff_hong@asrock.com.tw
About ASRock
ASRock Inc. is established in 2002, specialized in the field of motherboards. ASRock strives to build up its own brand. With the 3C design concept, "Creativity, Consideration, Cost-effectiveness", the company explores the limit of motherboards manufacturing while paying attention on the eco issue at the same time, developing products with the consideration of eco-friendly concept.
ASRock has been growing fast and become world third largest motherboard brand with headquarter in Taipei, Taiwan and branches in Europe and the USA. The young and vibrant company targets at entry to mainstream segment MB business, owning reputation around the world market with its reliability and proficiency. Further information, please visit: http://www.asrock.com/.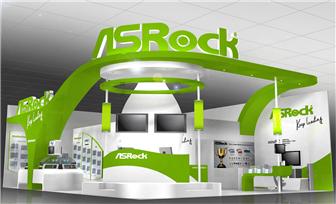 ASRock's Computex 2012 booth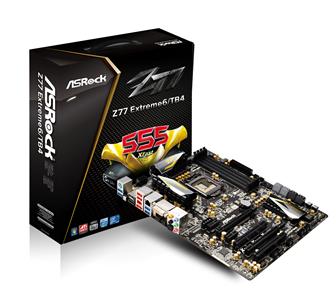 BOX-Z77 Extreme6 TB4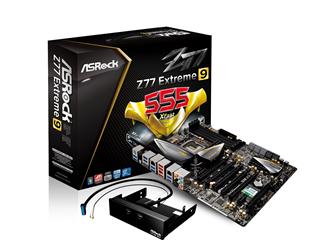 BOX-Z77 Extreme9 + SB BOX