AVEXIR Technologies to Showcase Latest Gaming Memory Core Series DDR3-2800 Quad Channel Kit at Computex 2012
Press release
Tuesday 5 June 2012
AVEXIR Technology Corporation, a high-performance Gaming Memory Modules Provider is taking part in Computex 2012 to showcase its latest Core Series DDR3 -2800 16GB quad-channel and DDR3-2400 32GB quad-channel.
Computer system requirement is a prerequisite often used as a guideline as opposed to an absolute rule. Most software defines two sets of system requirements: minimum and recommended. With increasing demand for higher processing power and resources in newer versions of software, system requirements tend to increase over time. Industry analysts suggest that this trend plays a bigger part in driving upgrades to existing computer systems.
With Diablo 3 launched this May 15, 2012, gamers hunger for getting the right gadgets to meet Diablo computer built requirements in order to play this game at maximum settings flawlessly. AVEXIR has just the right solution for enthuses gamers like you.
AVEXIR Core Series DDR3-2800 is developed based on newly launched Intel Z77 and Ivy Bridge CPU. It is an Intel XMP 1.3 enabled gaming memory, with just fewer mouse clicks, no more memory tuning or adjustment, your DDR3-2800 is ready to go. As Diablo 3 launched 10 years after Diablo 2, you sure need a long lasting gaming memory module to face the demon together 24/7. Under features of 8 layers circuit board for best signal transmission, server grade capacitor and resistor for higher temperature tolerance, golden finger protector to avoid oxidation while shipping, power stabilizer chip, and a blue LED twinkling as if it's breathing that fits right into your gaming transparent side panel computer case, AVEXIR builds its Core Series more seriously than you could imagine. More? Yes, come to visit us at booth number J0108 Computex 2012 Taipei to see it with your own eye!
AVEXIR Technologies, one of gaming memory specialized vendors of DRAM Modules and Solid State Drive, additionally provides complete memory solutions, including 9 series of memory for different needs and applications. We always have the right one for any computer memory slots.
Computex TAIPEI 2012 - AVEXIR BOOTH INFO
LOCATION: NANGANG EXHIBITION HALL
BOOTH: J0108
COMPUTEX°–COMPUTEX 2012 Plus! App Download:
https://play.google.com/store/apps/details?id=tw.org.tca.computextaipei2012
Marketing Contact Window:
Steven Kuo
Steven_kuo@avexir.com.tw
+886-3-560-1388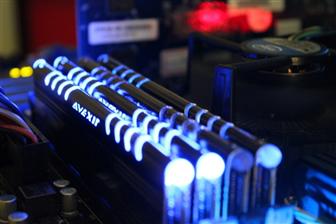 Avexir Core series