Shuttle to Showcase Small Form Factor Business Solutions, Education Tablet and New NAS Product at Computex 2012
Press release
Tuesday 5 June 2012
TAIPEI, TAIWAN - Shuttle Inc., an industry-leading designer and manufacturer of Small Form Factor PCs, Notebooks and Tablets, is unveiling a variety of line-ups cube, slim and AIO (All-in-One) form factors and mobile computing devices for consumer, commercial and education segments at COMPUTEX TAIPEI 2012.
Experienced in small form factors and thermal technology, Shuttle extends the applications of XPC to business territory such as Digital Signage, Point-Of-Sales, Kiosk and Access Control. The total solution of EDUPAL, the Shuttle e-school bag will be introduced with its beta version platform featured with multiple functions for education environment. To keep up with the trends of cloud computing, Shuttle is going to introduce its new brand of OMNINAS and unveil the first Network-Attached Storage product targets to Home and SOHO market.
EDUPAL, the Tablet based Solution for Education
Shuttle's EDUPAL is a tablet turnkey solution that targets the global education market. The EDUPAL allows teachers, students, parents and schools enjoy interactive learning through Shuttle's tailor-made tablet PC platform, which integrates hardware and software on a cloud-based system. Over the past year, the company has provided the EDUPAL solution to several city governments in Taiwan and has successfully introduced the new learning environment at elementary schools and junior high schools.
Cost-Efficient Business Solutions by Shuttle Small Form Factors Digital Signage
Shuttle's Slim and All-in-One series provide the flexible digital signage PCs as an ideal backend system that is customized to span the requirements of any marketplace. Shuttle Slim series PCs - XH61 series and its new powerful and ultra-slim addition - XS35V3, XS35GS V3 and XS36V will be presented the business scenario at the show.
POS/Kiosk
Shuttle presents the balanced POS hardware solution for small and medium business. Energy saving solutions based on Intel Atom processor platform and fan-less design ensures a quiet, reliable and aesthetic appeal. The new version of Shuttle's 15.6 All-in-One PC - X50V3 and the new 18.5 inch All-in-One PC - X70 will showcase the Basic POS, Performance POS and Basic Kiosk solutions.
Lifestyle XPC and New Networking Devices Gaming/Media
The fully-fledged XPC product line for advance users and gamers takes high-performance to a new level- redefining six-core processing with pint-sized extreme performance. From value gaming to mainstream and high-end gaming, Shuttle XPC SZ77R5 and SX79R5 bring out the performance and stability one can dream of. In media sector, Shuttle 3-Liter XH61 is served as a media HTPC in a small footprint.
Private Cloud
Cloud computing is the new stage in the Industry's evolution. Based on Shuttle's R&D experience and manufacturing excellence, Shuttle takes a leap into private cloud storage market and targets at Home, SOHO and SMB sectors and announced a new brand of OMNINAS. The first product of OMNINAS is KD20, which is a 2-bay NAS server supports currently standard maximum 8TB HDD capacity and cross-platform from personal computers to iOS and Android mobile devices.
Shuttle Booth: Booth L0802, 4F, TWTC NANGANG Exhibition Hall
About Shuttle
Established in 1983, Shuttle Inc., is an industry-leading transnational company driven by innovation and commitment to quality for products that include small form factor PCs, notebooks, tablets and networking devices for consumer, commercial and education segment. For more information, visit http://www.shuttle.com/ or contact shuttlepr@tw.shuttle.com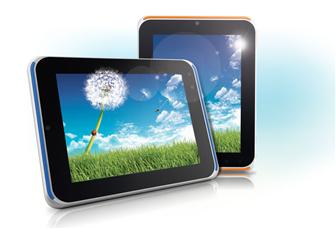 Shuttle's EDUPAL tablet solution

Shuttle's product lineup