AMI combines several key technologies to realize DIGBIL a business model for Digital Signage, Advertising and Cloud Computing
Sponsored content
Wednesday 6 June 2012
American Megatrends Inc. (AMI) is a well-known vendor of BIOS, and for providing the most advanced software/hardware, utility programs and complete solutions to IT players, while in Taiwan's IT ODM industry, the company also maintains long and stable partnerships with the supply chains of computer systems such as notebooks, motherboards, desktops and servers.
In addition to its BIOS product line, AMI also has several other important business units including network attached storage (NAS); remote management; server and datacenter management; Instant On operating system; Fast Boot; television and multimedia center; porting of Linux and Android; hardware technologies supporting Microsoft's RemoteFX for thin clients; and R&D for ARM-based embedded systems. Most of these product lines are only known by a few people and since most of the businesses are operating in Taipei, it has allowed the company's Taiwan branch to become AMI's largest office in world, while also the fastest in development.
To fully use its advantages in technologies from multiple different industries, AMI is integrating technologies and developing them into completely different forms. Compared to its strategy of mainly focusing on creating economies of scale, AMI has developed a brand new business model targeting services as the core. Before Computex 2012 takes off, AMI vice president Clas Sivertsen gave an in-depth introduction of its developed new business unit.
AMI combines its technologies introducing DIGBIL
Clas Sivertsen pointed out, "To put it simply, our innovation goal is to integrate many of AMI's technology advantages to create a new business model." Seeing that many of the existing Internet service giants have chosen the media advertisement business as an important foundation to success, AMI has chosen digital signage as its major focus for development and launched the DIGBIL system.
DIGBIL is an abbreviation of "DIGital BILlboards". Integrating AMI's expertise from many different industries and through the Internet's flexible and scalable characteristics, the company is building an advertisement system that can be accessed at any time, and that is easy to manage through the Internet.
For vendors that are currently running a digital signage business, no matter if it is the venue manager or advertising platform manager, DIGBIL makes it simple to establish a signage platform that is easy to install, maintain, and continue to expand in the future, helping vendors achieve maximum results by increasing their advertising locations.
From the perspective of a company or a personal advertiser, compared to the past method that vendors needed to negotiate with platform providers to broadcast their advertisements, they can now directly control their digital billboards and content through DIGBIL's web portal, reducing the complicated process of contact and communication with providers. The method will also allow the sale of digital billboard advertisements to become easy and convenient like Internet advertising, allowing advertisers to achieve maximum results from an innovative digital signage business model.
Clas further pointed out that AMI's biggest advantage is that the company holds key technologies, and with the participation of its major partners, a complete DIGBIL system can be established and integrated quickly. Currently, the industry still categorizes digital signage as an embedded system, but through the integration of AMI's firmware, operating system and software, paired up with hardware such as motherboards and ARM-based processors that are known for low power consumption, and Linux-based operating systems that have extraordinary performance, the digital signage system can cross into many different sizes of devices ranging from small displays in the back of the seat of a taxi to large outdoor digital signage systems satisfying the needs of different advertisers all accessible through a single portal.
As for servers, AMI is also an expert in BIOS and remote management technologies, especially over the configuration of firmware, and management tool software, as well as datacenter-level management, allowing the easy-to-expand DIGBIL platform to easily become an indestructible foundation between cloud computing eco-systems and Web portals. AMI has deployed the very latest technologies in Cloud Computing and Scalable Web Services to create DIGBIL.
Innovations trigger the accumulation of talent; Taiwan will have a better chance than Silicon Valley
Clas pointed out that the manufacturing of digital signage requires three major components - the first one is LCD panels and Taiwan is one of the major supply sources worldwide; the second is LEDs and Taiwan's LED production capacity is also already at the top-tier level; and the third is motherboards and embedded systems and Taiwan is already the largest supply source worldwide - with the above advantages, Taiwan vendors are currently taking the leading role in the digital signage industry.
With AMI's technologies plus its close relationships with Taiwan-based vendors, the cooperation will allow Taiwan-based makers to escape from their existing economic model of pushing volume for small profits, and accelerate to an economic model that focuses on services and creates opportunities for a new wave of industrial upgrades. This is also the most important reason why AMI, after careful evaluation, chose Taiwan instead of Silicon Valley in California, as the base for development, Clas said.
The easy-to-use DIGBIL business model has attracted first-tier talent worldwide to join AMI's Taipei R&D team and these experts have made numerous contributions targeting new-generation technologies. At Computex 2012, AMI will display a brand new 82-inch glasses-free visual 3D display technology at its booths to allow digital signage products to enter the uncorrected visual industry, and the company is humbly inviting all players in the IT industry to visit and to have a glimpse of DIGBIL's brand new developments.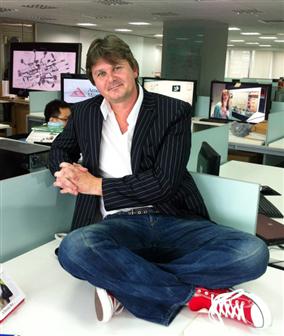 AMI vice president Clas Siverstein