Conquer's chip fuse CQ24P series in LED lighting applications
Press release
Friday 22 June 2012
Following the increase of energy prices, green concepts are becoming more embedded into consumer markets, with such sectors as LED lighting applications, solar and wind energy, hybrid vehicles and renewable energy gaining more attention.
LED displays, backlighting, general lighting and automotive lighting make up more than US$150 billion in the global market. Aside from displays, the lighting industry has some of the most benefits to reap with LED. Indoor and outdoor lighting, specialized lighting for medical, military and agricultural purposes, safety lighting and portable lighting equipment have all become a battleground for companies to compete and create new products.
Although LED lighting is energy-efficient, it still has to overcome problems with heating. To increase the heating efficiency, LED light bulbs need to add heat sinks with larger surface areas (deeper heat sink grooves), and the space for the circuit board has to be shrunken; therefore, there needs to be development for small-sized circuit boards used in LED lighting. The miniaturized design of the board means that components on it will also decrease in size. For chip fuse applications, the shrinkage means the conventional AI type will be replaced by the SMD type.
To offer solutions for LED lighting applications, Conquer Electronics in the first quarter of 2012 obtained UL certification for its 2410 P Type chip fuse (product name: CQ24PF & CQ24PT series), which has a size of 6.1x2.6x1.1mm. Compared with the traditional micro fuse, it has 93% less volume and 58% less than the traditional 2410 square device. This is the smallest and thinnest 2410 chip fuse in the world. (Picture 1)
The CQ24PF & CQ24PT series supports a current range of 0.5A-12A with a great increase in the interrupting capacity from the traditional 2410 square fuse's 50A 125Vac to 100A 350Vac/dc. When the CQ24P series is used to replace the micro fuse, not only is space utilization increased, customers can also save the costs of having to trim the pins. The one-piece structure also avoids the problems that traditional 2410 devices face, namely, when they go through the reflow oven or wave soldering process, the copper caps of the electrodes may falloff because of the high temperatures. The CQ24 is also a series of lead- and halogen-free products that meet the newest environmental standards. (Picture 2)
AT present, LED makers mostly use traditional micro fuses and subminiature fuses with their IC boards. As LED product modules become lighter, there will be an inevitable trend of smaller fuses and related components. Conquer's CQ24PF & CQ24PT series provides ideal solutions for protecting LED lighting fixtures' circuits. Generally speaking, CQ24PF or CQ24PT 0.5A-2A fuses are suitable for 1-8W home-use LED bulbs that have an input voltage of 85V-220VAC, while CQ24PF or CQ24PT 1A-2A fuses are suitable for 10-25W indoor and outdoor lighting or architectural lighting fixtures that have an input voltage 110V-220VAC. (Picture 3)
Conquer has been dedicated to research and development work with strong roots in Taiwan over the last 35 years. Its new CQ24P series has great circuit design, accurate fuse characteristics and high anti-surge capacity, and has also met European Union's standards energy standards with its lead-free and halogen-free material. Conquer also provides the most up-to-date information and quality-care service for its customers while helping them choose the most appropriate energy-efficient fuses. Conquer's CQ24PF and CQ24PT series has superb quality and punctual delivery, making it the number one choice in the LED lighting industry.
Author: Conquer Electronics R&D center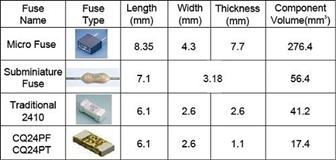 Picture 1: A comparison of the sizes and volumes of fuses commonly used in LED devices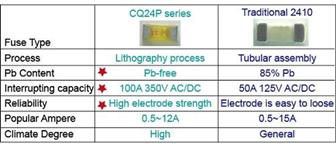 Picture 2: A comparison of the advantages and disadvantages of the CQ24PF/CQ24PT series and traditional 2410 fuses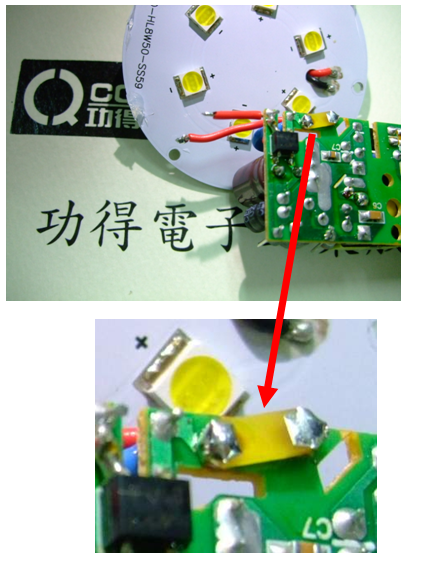 Picture 3: CQ24PF/CQ24PT installed in 8W LED bulbs has gone through reliability testing for more than one year and still maintains good quality.
DIGITIMES' editorial team was not involved in the creation or production of this content. Companies looking to contribute commercial news or press releases are welcome to contact us.